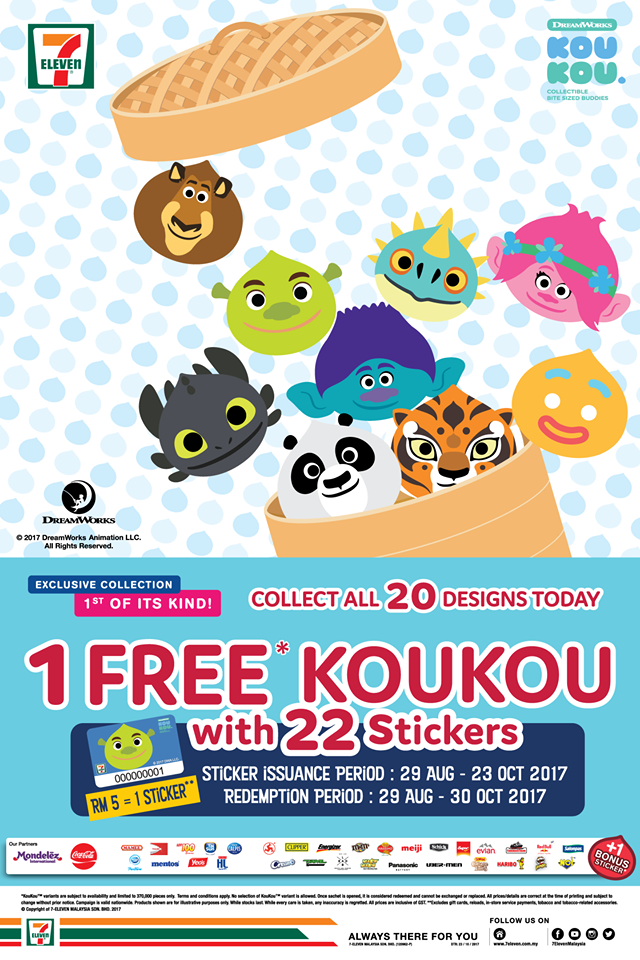 Wednesday, 6th September 2017 – 7-Eleven Malaysia is back with its latest loyalty program, the exclusive and 1st of its kind, DreamWorks KouKou™ collectibles!  KouKou, pronounced as "KoKo", is based on the Chinese word "KOU" which stands for mouth or bite. The Chinese character is written as "口", which could be cleverly incorporated into the "o's" in KouKou as a representation of its origin.
Featuring iconic DreamWorks characters from well-loved animations such as Shrek, Madagascar, Kung Fu Panda, How to Train Your Dragon and Trolls; these 'bite-size buddies' are now available in all 7-Eleven stores nationwide, and the first to be launched in Malaysia following its global launch on 25th August 2017.  There are 20 KouKou characters in total to be collected, among them all-time favourites such as Alex and Marty of Madagascar, Po and Mei-Mei of Kung Fu Panda fame, Shrek and his gang as well as the latest stars, Poppy and Branch from Trolls! Each collectible comes in individual 'blind' packs to provide an element of fun and surprise to collectors.
The campaign will run for 8 weeks until the 23rd October 2017. During this period, customers will be rewarded with one program sticker for every RM5 spent in a single receipt on selected purchases in- stores while bonus program stickers will be rewarded when each purchase includes a preferred partner's product such as those from Coca-Cola and Mondelez among others. Once all 22 stickers are collected, customers can redeem one free KouKou!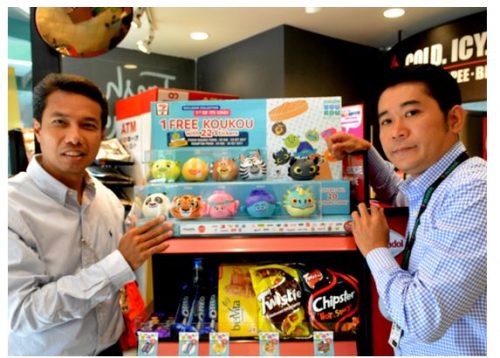 7-Eleven Malaysia's Deputy CEO, Mr. Hishammudin Hasan said, "We are incredibly delighted to present our highly exclusive DreamWorks KouKou™ collection. These adorable collectibles would most certainly appeal to all, especially fans of DreamWorks' animated feature films. Furthermore, KouKou's exclusivity as a DreamWorks-licensed product and the first of its kind launched in Malaysia makes this mini-sized companion even more desirable, alongside its multi-functional uses such as a stationery holder, a pin cushion for your sewing materials, or even as a stress ball to relieve tension whether you're studying or at work. We believe that this exclusive loyalty program will win the hearts of our customers as meeting our customers' needs has always been our utmost priority."
In conjunction with the DreamWorks KouKou™ collectibles loyalty program, 7-Eleven Malaysia will also be having a "What is Your KouKou Doing?" contest from now until 23rd October 2017. The social media contest is open to all 7-Eleven customers, with exclusive prizes up for grabs such as one of its kind exclusive Dreamworks KouKou™ bean bags and organizers! Participants are required to snap a creative boomerang video of what their KouKou collectible is doing and post it via Facebook or Instagram, tagging @7ElevenMalaysia with the hashtags #DreamWorksKouKou #7ElevenMY #WYDKouKou.
7-Eleven Malaysia is the largest stand-alone convenience store-chain nationwide, with more than 2,200 outlets across the country. The launch of Dreamworks KouKou™ extends the journey to continuously aspire to elevate customers' shopping experiences and scale greater heights as the leading convenience store operator in Malaysia. To achieve expectations in providing convenience to customers, 7-Eleven Malaysia opts to stay true to its motto, Always There for You.
For more information on DreamWorks KouKou™, please log on to www.7eleven.com.my or follow 7ElevenMalaysia on Facebook, Instagram, Youtube and Twitter.