In August 2017, a new Minute Maid juice drink has made its debut in Thailand as Minute Maid Vita Kids (มินิท เมด ไวตา คิดส์) and in Indonesia as Minute Maid Homestyle. The brand message is all about the goodness inside (ie the goodness inside the orange) and this is expressed through the happy facial expression of the individuals in the television commercial. "When you feel good inside, it shines."
Indonesia version:
Thailand version:
Different target audience
The Thai version shows the new Minute Maid Vita Kids provides seven goodness including calcium, zinc and vitamin A, C, D, B6 and B12 for children. In Indonesia, the new Minute Maid Homestyle is aimed at young adults.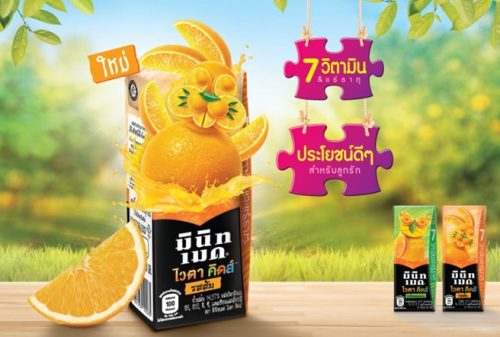 Minute Maid Refresh to debut in Malaysia
In Malaysia, the The Coca-Cola Company's Minute Maid Refresh is set to be launched soon. Available as apple fruit drink and orange fruit drink, they have already received the halal certification from JAKIM and are now waiting to be rolled out in stores.

At present, Minute Maid Refresh is available in the form of fountain machines in the foodservice channel and in convenience stores.
Minute Maid Homestyle is sweetened with stevia
The Minute Maid Homestyle in Indonesia uses stevia as the sweetener and contains 35% juice content.
What Mini Me thinks
Minute Maid is well known for its pulpy juice drink. The new Minute Maid Homestyle, Minute Maid Vita Kids and Minute Maid Refresh juice drinks will provide consumers with a non-pulpy juice option. The Minute Maid Vita Kids provides an added-value option with minerals and vitamins.