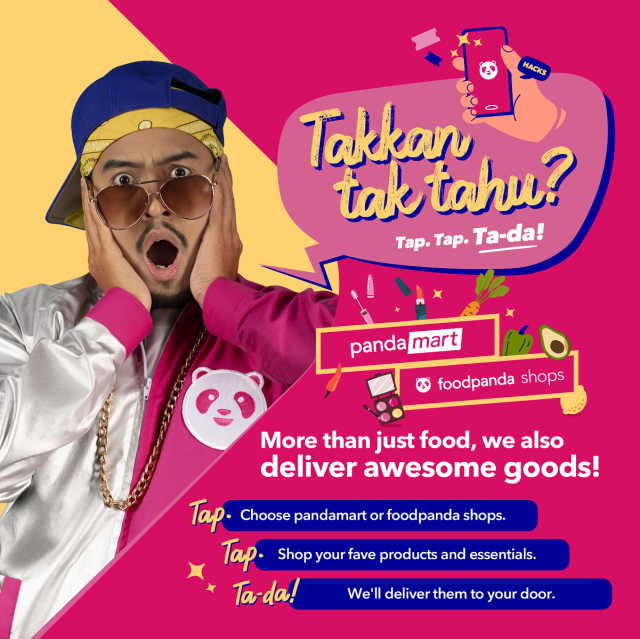 Educating customers on a series of "hacks" with the #TakkanTakTahu minisodes
Malaysia, October 5, 2021 – foodpanda launches the all new #TakkanTakTahu campaign through a series of music videos. The videos reveal lesser-known features and hacks on the foodpanda app, to show customers pro-tips on how they can best unlock deals on the app and stretch their ringgit further. The series of musical videos and serial minisodes feature original soundtracks, with guest appearances from renowned local faces.
Commenting on this campaign, Vanita Menon Kris, foodpanda's Head of Marketing, said that the platform provides many ways for customers to save time and money, which some customers may not necessarily know about. "In hopes of elevating and enhancing their app experience, we have released a series of earworming music videos and minisodes to arm our customers with secret hacks ranging from stacking discounts with vouchers for additional savings, to collecting loyalty points through challenges and badges and even saving on delivery fee through the Group Order function.  It's as easy as tap, tap, ta-da!"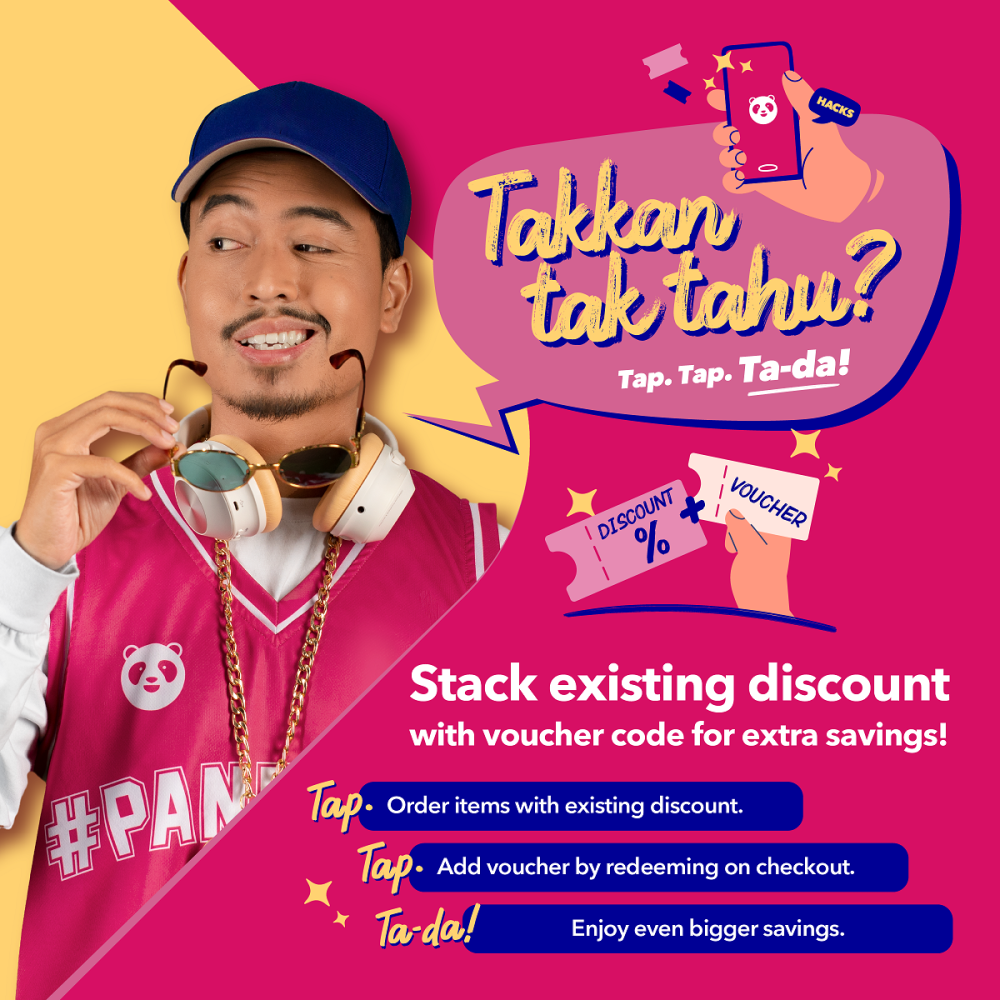 Vanita added, "The music videos that are currently live online are teasers to a much larger story. In our very own Delivery Ke Hati Seri minisodes, we follow the story of Seri and her three generational family as they go through their daily lives using the various foodpanda joy hacks. The musical inspirations include Barbershop Quartet on our loyalty programme, K-Pop rapping about stacking discounts with promo code, and Bollywood on group ordering and many more."
As a brand that is constantly driven by data and coupled with localized contextual insights of its consumers, the campaign, which was launched on foodpanda's social media channels, was put together to reach out to mobile-first audiences like Gen Y and Gen Z users. With the target segment in mind, foodpanda decided to incorporate music to create a more memorable story. From short flow hip hop earworm to the nostalgic moments of kugiran P. Ramlee and Bollywood beats, the development of each musical element works as a homage to the generations' tunes. 
Currently a series of television capsules in musical format across various musical genres featuring some of Malaysia's favourite celebrities such as Nadia Aqilah, Adibah Noor and more. Additionally, the made-for-digital shorts, the #TakkanTakTahuvideos features a five-series short rap to engage with the younger market segment. This live-action animated series is set to give a ring across all digital mediums, including a Branded Spotify playlist feature in these upcoming months. 
Launching foodpanda's Delivery Ke Hati Seri TV series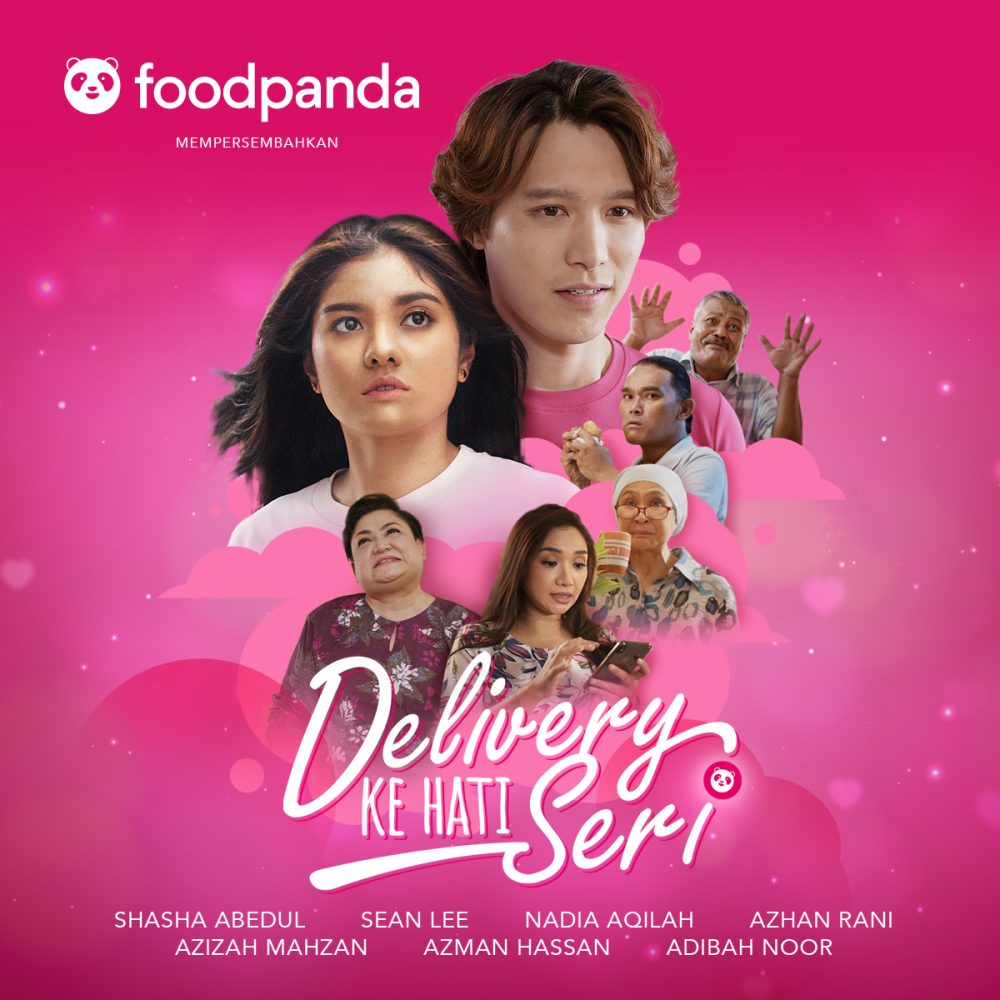 Malaysians can also look forward to foodpanda's very own, Delivery Ke Hati Seri Minisodes – an expansion from the television capsules, that will premiere on TV3 at 7.58pm and at 8.28pm on TV9 on the 11th of October.
The idea behind developing the minisodes was a TV musical homage to the 80s and 90s babies in Malaysia. From watching P. Ramlee on RTM, catching Anugerah Juara Lagu (AJL) fever while belting to our rock kapak and power ballads annually in front of the television, to the weekly Saturday family event of watching Bollywood movies, it's a sing-along with an ensemble cast like no other. 
A surprise thrown into the mix is having Azizah Mahzan, one of Malaysia's legendary drama actresses, singing and dancing to K-Pop. These musical minisodes also feature cameos from Masdo, and Man Kidal, Malaysia's legendary guitarist serenading to one of the tracksAfter the TV premier, we will also be extending the digital premiere through an exclusive partnership with WeTV – a first for a brand in Malaysia. 
The #TakkanTakTahu campaign would also see foodpanda Malaysia as the first foodpanda in the Asia Pacific region to launch a Spotify Branded Profile and feature a Branded Playlist to coincide with the campaign. Additionally, it would also be the first brand in the region to publish audio tracks as an artist on Spotify.
Click here to view the #TakkanTakTahu Rap video and here for the Delivery Ke Hati Seri trailer.