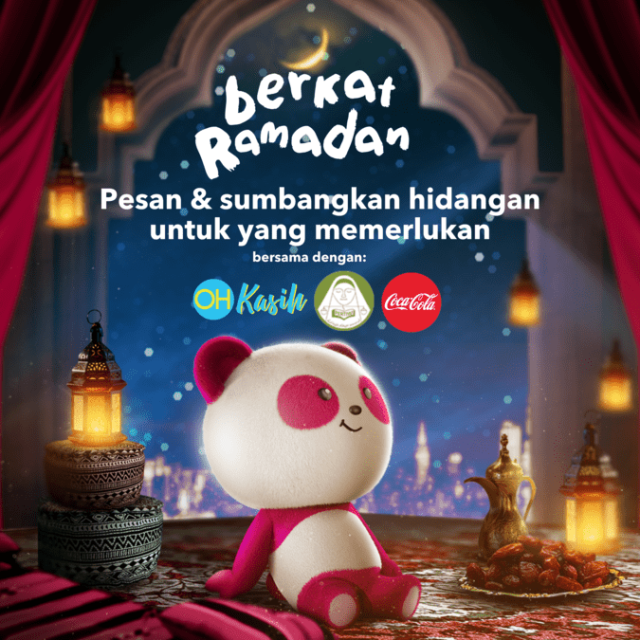 True to its brand philosophy, Coca-Cola Malaysia embraces the spirit of Ramadan by providing meal donations to the needy through PERTIWI Soup Kitchen
Kuala Lumpur, 28 March 2023 – Coca-Cola Malaysia, true to its 'Real Magic' brand philosophy of bringing people together and sharing meals with the communities, is collaborating with foodpanda Malaysia to foster the spirit of Ramadan in a joint CSR programme during this fasting month. Under this initiative, meals will be donated to PERTIWI Soup Kitchen which provides food-aid services to underprivileged communities in the inner city of Kuala Lumpur.
Rina Surya, Frontline Marketing Director, Coca-Cola said, "At Coca-Cola, we always strive to find ways to improve the lives of people around us and we hope to create a lasting, positive impact in the local community. We are delighted to collaborate with foodpanda Malaysia this Ramadan in its 'Berkat Ramadan' Campaign and together support PERTIWI Soup Kitchen to ease the burden of those in need. In line with our 'Real Magic' brand philosophy, we hope to bring some joy to the destitute inner-city communities in Kuala Lumpur especially during these challenging times."
From 23 March to 21 April 2023, for each order by Malaysians place on the foodpanda mobile app and website using the promo code 'PANDA', foodpanda will be donating one meal to PERTIWI Soup Kitchen. In addition to joining hands with foodpanda in the donation of meals to PERTIWI Soup Kitchen, Coca-Cola will provide product sponsorship where each donated meal will include a beverage from Coca-Cola Malaysia's portfolio of drinks including Coke and Dasani Mineral Water.
 "We would like to invite all Malaysians to join us in this meaningful initiative and contribute to helping and giving back to the community. After all, giving charity to fulfil the needs of those less privileged is truly meaningful, especially in the month of Ramadan," added Rina.
 "foodpanda is already synonymous with delivering food and other conveniences to our customers. At the same time, we do not want to forget there are still many among us in the city who are living in destitution. Our Muslim friends will fast and exercise self-control during the month of Ramadan, but the urban poor community that PERTIWI Soup Kitchen reaches out to goes hungry every day of the year. We are extremely humbled and honoured that Coca-Cola Malaysia believes in our efforts and is joining us to give back to our community," said Bernard Chong, Marketing Director, foodpanda Malaysia.
 In addition to the Ramadan CSR campaign with foodpanda, Coca-Cola Malaysia has also joined the Absolut Bazaar X Festival Gaya Raya 2023 (ABXGR23) as an Exclusive Beverage Partner. The event, organised by My Events International and Absolut Event & Management, will be held at the Malaysian International Trade and Exhibition Centre (MITEC) from 14 – 17 April 2023.
As the main sponsor, Coca-Cola is doing its part to support local businesses as well as Malaysians preparing for Hari Raya. The festival will see more than 500 local entrepreneurs and small business owners offering various promotions for the upcoming Aidilfitri celebration.
All these activities are in line with Coca-Cola's 'Real Magic' brand philosophy which believes that magic is everywhere. It is alive in both small and big moments. It is real in shared moments with people we love and even with our community, whether these connections are made physically or virtually.
"We consider ourselves fortunate to have been given the opportunity to be part of every table and witness the real magic of human connections, especially during the Ramadan month that is the biggest, most festive season in Malaysia where families get together." added Rina.