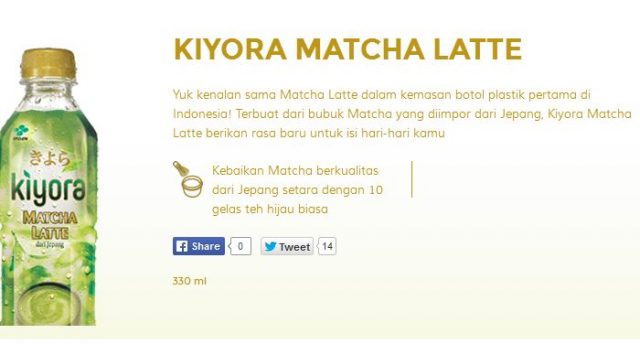 Matcha has become a sought after ingredient for food and beverage application in Indonesia. Kiyora Matcha Latte is the latest F&B product using matcha, making it the first RTD tea of its kind in the Indonesian market. Kiyora Matcha uses imported Japanese powered green tea and milk supplied by Ultrajaya. Kiyora is a joint venture between the Japanese RTD tea company Ito En and the Indonesian RTD tea and dairy company Ultrajaya.
In the chocolate segment, the Cimory's Chocomory Matcha Chocolate Bar is made using Japanese matcha. The chocolate bar was launched in early 2015 and is available at Cimory Riverside, Cimory Mountain View, Flavorbliss Alam Sutera, and Cimory Restaurant and Milk Factory in Bawen, Semarang.
In Indonesia, matcha is added into cakes and beverages to add flavour and for premiumisation. For example, one of the popular traditional food in Jakarta is kue cubi green tea. A normal kue cubit costs IDR 7,000 but when green tea is added, the price goes up to IDR 15,000 to IDR 20,000.
The Japanese powdered tea is promoted as a health food and among the benefits of matcha are reducing body weight, providing the body with energy and helping to prevent diseases thanks to the high antioxidant levels. In neighbouring Malaysia, the DASTO energy bar with matcha is used for weight control, which shows matcha is being promoted as a functional ingredient in both countries.
Matcha's rising popularity bodes well for Japan, which is a key source for the ingredient. The use of matcha in food and drinks also helps spur functional food innovation in Indonesia.