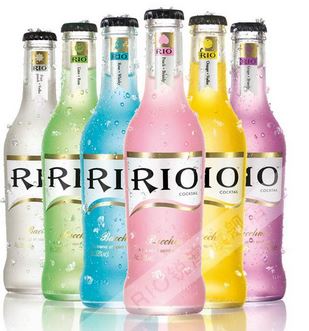 Shanghai Bakesi Wine Co., Ltd. (上海巴克斯酒业有限公司), the maker of Rio (锐澳) is basking in the limelight. Bakesi is owned by Shanghai Bairun Flavor & Fragrance, a Shanghai-listed company. The share price of Bairun has surged by nearly 8 times within less than 1.5 years following its acquisition of Bakesi Wine.
The earlier blog in December 2014 contains the financials from 2012 to the first half of 2014. This blog provides an update with the latest 2014 full year results and revenue forecast for the coming three years as provided by the company.
As you can see, the growth is extraordinary and the momentum is likely to continue in the coming months as distribution improves. Evidence on the ground as reported by the media in Changsha, capital of central China's Hunan province, has confirmed the rapid growth of alcoholic cocktail drink. Sales of alcoholic cocktail drink saw a 20 fold increase at Hunan Jiarunduo Supermarket (家润多超市) in 2014 compared with 2013. In Q1, 2015, sales continued to grow rapidly, up by 90%. Alcoholic cocktail entered the Changsha market only in 2013.
Shanghai Bakesi Wine Q1, 2015 sales already reached 78.9% of total sales for the whole of 2014. Sales volume by boxes surged to 8,173,021 in 2014 from 514,236 in 2012.
The sales mix is increasingly moving towards the more expensive products – Rio in glass bottle and 佐餐酒 (alcoholic drink as a meal accompaniment) as the company moves up the value chain.
Rio is focusing on the right segment.  According to a survey by S&P Consulting (尚普咨询), the composition of cocktail drink consumers in China is very young. Over 80% of them are below the age of 30. The low alcoholic and sweet taste make alcoholic cocktail drink ideal for both male and female.
A cautionary note:
China has seen many examples of categories suddenly experiencing explosive growths and attracting many new entrants but their growth eventually tappers off.
Examples include kvass (格瓦斯), a Russian non-alcohol fermented drink, which saw a spurt in growth in 2013 as well as milk tea (奶茶) and pear tea. The advice is enjoy the ride now because eventually the party will end.
Update: 1H 2015 results and Q1-Q3 2015 projections
First half cocktail segment revenue surged 3.4 times to RMB1.62 billion. The company has already achieved 85.9% of it full year target for 2015.
The company has revised downwards its first three quarters earnings projection citing inventory and macro economic factors. The new net profit projection for the first nine months of 2015 has been lowered from a 280-330% year-on-year growth to 200-230% growth.
Rio's distributors are facing problem with clearing the inventory due to the massive influx of products not only from Rio but from other competitors. The key problems faced by distributors are fake goods, the inability to sell more products due to weakening demand and disarray in product prices. Will the party ends for Rio? The risk is there.