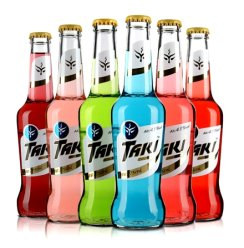 Competition in the ready-to-drink cocktail category in China is getting hot as the soybean and grain nutritious drink company Blackcow Food (黑牛食品) has introduced Taki. South Korean heartthrob Kim Soohyun, best known for his role in My Love from the Star, is the brand ambassador. He will be the face of Taki for 2 years. Taki focuses on tier one and two cities and is available through e-commerce, supermarket/hypermarket and night clubs. Female is the key target.
The next contender for the cocktail frenzy is Huiyuan, yes, the Chinese fruit juice maker. The new cocktail is marketed under the name Zhen Xuan (真炫). Personally, I think the packaging does look very Chinese and may not appeal to sophisticated urban drinkers.
Have a look at Rio TV ad and you will see how this brand has all the DNAs of a successful cocktail.