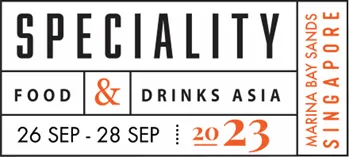 Celebrating three days of fine foods and beverages, food service and delivery solutions, and sustainable products and packaging, SFDA 2023 attracted nearly 7,000 attendees from 49 countries 
Singapore, 5 October 2023 – The fifth edition of Speciality Food & Drinks Asia 2023 (SFDA), Southeast Asia's leading trade show for artisan, gourmet, and fine food and beverages, has come to a successful close. Co-located with the second edition of takeaway and delivery exhibition Food2Go at the Sands Expo & Convention Centre in Singapore, the three-day event attracted close to 7,000 attendees from 49 countries.
The opening ceremony was graced by Guest-of-Honour Yeo Wan Ling, Member of Parliament for Pasir-Ris Punggol GRC and Director of NTUC U SME and U Women and Family; Christopher McCuin, Managing Director of Montgomery Asia; and Victor Mah, President of the Singapore Coffee Association, alongside other distinguished guests. A Memorandum of Understanding (MoU) between NTUC and the Singapore Coffee Association was signed, kickstarting a partnership that seeks to create better workplaces for small- and medium-sized enterprises (SMEs) across all sectors of the coffee industry. MP Yeo had the opportunity to tour the event and hear about the new products and innovations being showcased.
Christopher McCuin, Managing Director of Montgomery Asia, said: "I'm thrilled to announce that this fifth edition of SFDA was once again a splendid success. It was great to witness so many facets of the F&B industry coming together to share their innovations, services and products. I'd like to thank all exhibitors, partners and supporters for their invaluable support, and look forward to seeing everyone again next year."
Bustling with activities, attendees were treated to cooking demonstrations at the Fine Food Live Stage, and food and drink tasting sessions by many exhibitors and brands. The Tap Room also featured a range of the finest brews. Many F&B products and services were showcased by brands, including Thoughtful Food Pte Ltd, The Water Sommelier, Global Good Plant Meat Pte Ltd, Mindful Drinks, Curated Culture, Curtice Brothers Natural Sauces, VektroPack, Ecospec NovelTech, Sanz Pte Ltd and Smart Minds Holdings Limited, among many others.
Paponpat Piyakulwarasak, Chief Executive Officer of Hoshi Japanese Restaurant, said: "I had the privilege of attending this year's SFDA as a buyer from Thailand, and it was a fruitful experience. The event provided a great platform for networking and discovering new, high-quality products, from the Singapore market and beyond, which bring great potential to F&B owners seeking to elevate their businesses. I look forward to engaging with the new industry connections made at this year's event, and returning for future editions."
Co-located show Food2Go focused on the takeaway and delivery needs of the F&B industry, bringing suppliers, distributors and technology providers together with foodservice, retail and hospitality professionals. With innovative and sustainable solutions in food packaging, vending machines and online ordering platforms, Food2Go helped create business opportunities in this fast-growth industry.
The panel discussions at the Innovation Stage brought industry experts together to discuss challenges and opportunities in the F&B business landscape, including partnerships in the food delivery industry, the ethics of dining reservations, sustainable packaging technologies, and our path towards food security, among many others.
Matt Kovac, Chief Executive Officer of Food Industry Asia, said: "At Food Industry Asia, we support the development and implementation of science-based policies and regulations to foster sustainable growth in our rapidly evolving sector. I'm glad to have moderated a panel discussion at Food2Go, where we delved into the latest advancements in packaging technologies designed to enhance food safety. I also had the opportunity to network with fellow industry professionals and exchange valuable insights to support the sustainable growth of the food and beverage sector."
Celebrating outstanding F&B talents and innovations
SFDA 2023 hosted the finals of the first-ever Big Idea Food Competition (BIFC) by Big Idea Ventures – the most active FoodTech investor in the world. Aimed at building new innovative ecosystems, identifying world-class talent and investing in the future of food across Asia, the BIFC saw finalists pitch and present their alternative protein innovations to a panel of judges.
Emerging as the winner was Vitality Foods, a Singapore-based next-generation foodtech company that presented their line of plant-based stock powders and flavourings in rich, meaty and seafood profiles. A testament to Singapore's growing focus on food innovation and sustainability, their win secured them the grand prize of a US$200,000 investment package and automatic enrollment into Big Idea Ventures' Cohort #8 accelerator program. WEMEET from South Korea came in second with their mushroom-based meat alternatives, and Thailand's Plant Origin placed third for their protein extracted from rice bran.
Jointly organised by Montgomery Asia and the Meat Traders Association Singapore (MTA), the first-ever ASEAN Butchery Competition brought together meat experts who demonstrated their craftsmanship in meat carving and presentation. Participating teams were judged based on skill and yield; food hygiene and work safety; quality; creativity and display; and cookability of the cuts. The competition saw Butcher Box Singapore clinch the top place and a grand prize of S$5,000, and Huber's Butchery and Hilton Singapore taking the first and second runner-up places, respectively.
Hosted by the Singapore Coffee Association and Speciality Coffee & Tea Asia (SCTA), the long-awaited Singapore National Coffee Championship 2023 concluded with four deserving champions emerging in various coffee disciplines.
The champion of the Singapore National Latte Art Championship 2023, Jervis Tan, secured a place as the representative of Singapore at the prestigious World Latte Art Championship 2023, scheduled to take place in Taipei, Taiwan, this November. Courtney Kheng, Alistair Seetho and Terence Tan also claimed victory as champions of the Santino Singapore National Barista Championship 2023, Singapore National Brewers Cup 2023 and Singapore Cup Tasters Championship 2023 respectively, and will be representing Singapore in the World Coffee Championships 2024. These champions have exemplified excellence in their respective coffee disciplines, showcasing the thriving coffee culture in Singapore and promising prospects on the international stage.
Strategic Partners, Supporting Partners & Sponsors
This year's edition is supported by a host of leading industry associations and brands: its Strategic Partners – Meat Traders' Association Singapore (MTA), Singapore Coffee Association (SCA) and Singapore Food Manufacturers' Association (SFMA) – and the Strategic Partner of Food2Go – Singapore Manufacturing Federation (SMF), as well as the following Supporting Partners  – Singapore Agro-Food Enterprises Federation (SAFEF), ASEAN Coffee Federation (ACF) along with its 10 country representatives, Asia-Pacific Society for Cellular Agriculture (APAC-SCA), Club Managers' Association of Singapore (CMAS), Association of Catering Professionals of Singapore (ACAPS), Hospitality Purchasing Association Singapore (HPAS), Singapore Retailers Association (SRA), the Food Bank Singapore (FBSG), and many others.
Patrick Chan, President of the Association of Catering Professionals of Singapore, said: "As Singapore's catering industry evolves, we strive to further develop the capabilities and professionalism of caterers and food suppliers. We are proud to be a Supporting Partner of SFDA 2023, which brought the F&B industry together for three days of learning, sharing and networking."
Dennis Mark, Chief Executive Officer of the Singapore Manufacturing Federation, said: "The SMF is pleased to be the strategic partner for Food2Go Asia 2023. This event has provided a collaborative platform for our members, the general public, and a broad spectrum of industry stakeholders to exchange ideas, foster innovation, and showcase the best of their products. It has proven to be an ideal arena for manufacturers, consumers, and both regional and international partners to convene, share cutting-edge innovations, and propagate ideas in product manufacturing and packaging technology. As we reflect on the success of 2023 and look forward to 2024, we see that this platform is a crucial avenue for us to reach our global audience. This is a perfect opportunity for more Singapore brands and companies to join us in this innovation journey, share their ideas, and propel their businesses onto the global stage. We look forward to Food2Go Asia 2024, with aspirations to make it even bigger and better."
Expanding horizons and reuniting the industry in 2024
SFDA and Food2Go will return from 1 to 3 October 2024 at the Sands Expo & Convention Centre in Singapore. Both events are must-attend platforms which will showcase the future of fine food and drinks, foodservice and takeaway and delivery services. For the latest updates and announcements, visit www.sfdasia.com.