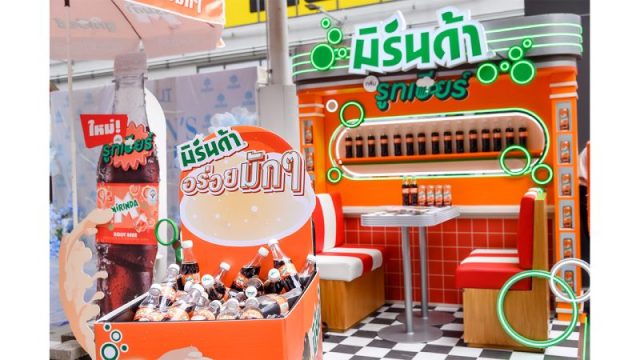 Thursday 05 October 2023 –  "Mirinda" soft drink brand by Suntory PepsiCo Beverage (Thailand) Company Limited moves forward to beat the goal of becoming the "Root Beer Mug" market leader as well as continuing to build brand awareness and engagement among target generation customers.
Mirinda recently organized an on-ground customer engagement event at the activity plaza in front of Centerpoint Siam Square with the "Mirinda" booth set up to attract Gen Z with a refreshing flavor and signature taste of the legendary Mirinda Root Beer.
Gen Z at youth-inspired Siam Square enjoyed their all-time favorite root beer that sensually offers a glimpse of Y2K-style carbonated drinking trend, it provided Gen Z customers with a fizzy drink indulgence and joyous moment of drinking cold Root Beer Mug. Mirinda Root Beer is now ready to deliver next-generation customers at Siam Square an unexpectedly refreshing flavor that is sure to make you fall in love at first sip.
The caravan of "Mirinda Root Beer" took place at Centerpoint Siam Square to make it a check-in landmark in style as refreshing Mirinda Root Beer was given away for Gen Z and general customers to experience the delicious taste of root beer-flavored carbonated soft drink.
More than 7,000 bottles of Mirinda Root Beer were handed over to customers so that they can have a hands-on fizzy drink experience in the masterfully created root beer taste and surprising signature flavor of the Mirinda Root Beer. It features a harmonious combination of fizzy soda, delicate and mellow flavors, and captivating root beer foam that is reminiscent of a wonderful day of cold Root Beer Mug drinking experience favored by everyone.
It started off with an exclusive "Interactive" mini game, took selfie photos with friends and post on their social media platform with a hashtag #MirindaRootbeer. Customers also enjoyed a wow experience to see the attractive Mirinda Root Beer Troop marching in the style of Boom Box Dance Show at many hotspots in Siam Square.
The "Mirinda Root Beer" received a good response from Gen Z customers who came to enjoy cool activities and discover the surprising taste and signature flavor identity of Mirinda Root Beer.