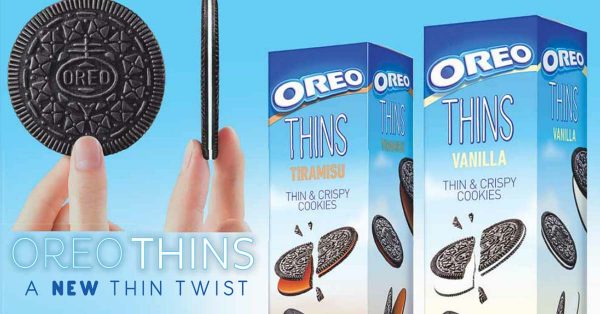 Oreo Thins has finally come to Thailand and Malaysia after making its round in Singapore (August 2016), Australia (2016) and the Philippines (July 2017). Oreo Thins was first conceived in China in 2014 to arrest falling cookie sales.
The slimmer version of Oreo is meant for adults and is not designed to be twisted open or dunked. It also has fewer calories than the regular Oreo.


The Oreo Thins are made in China is distributed in Singapore by Mondelez Singapore Pte Ltd, Hong Kong by Mondelez Hong Kong Limited, Brunei by Syarikat Perniagaan Malar Setia, Malaysia by Mondelez Malaysia Sales Sdn Bhd and the Philippines by Mondelez Philippines Inc.
They are currently available in stores as Vanilla Delight and Tiramisu.
In Malaysia, Mondelez is collaborating with Tesco to provide a trip to South Korea for a lucky winner. There will also be a weekly prize where the winners can bring home Instax camera.
The Oreo Thins TVC for the Southeast Asia market focuses on delivering the message of snacking for young adults, a snacking population who have outgrown the "twist, lick and dunk" classic Oreo of their childhood.
7-Eleven a key partner for Oreo Thins launch
7-Eleven is the key partner for the launch of Oreo Thins in Thailand and the Philippines.
In Thailand, Oreo Thins is available initially at 7-Eleven for THB 35 – 95g and will be soon available in hypermarket, supermarket and other leading stores in November 2017, according to the press release.