Tango, the leading wafer brand from Indonesia's OT Group, officially unveiled So Tango in September 2017. This new wafer with Belgian chocolate adds to the existing lineup comprising Tango Waffle, Tango Fusion, Tango Crunchcake and Tango Kraffel. Tango was first introduced in the country in 1995 and is now contributing 20-30% towards OT Group's revenue. According to the business daily Kontan citing Harianus I Zebua, Head of Corporate and Marketing Communications OT Group, Tango is number one in the wafer segment in Indonesia, .
Focusing on export
Charles Klamodarso, Managing Director Wafer Division OT Group, said the company has been focusing on exporting Tango in the past three years. He said the export market is "growing significantly" with focus on China and Vietnam. The company has exported Tango Waffle, Tango Fusion, Tango Crunchcake and Tango Kraffel. For the domestic market, Charles said the Tango brand is expected to grow by 10-15% in 2017.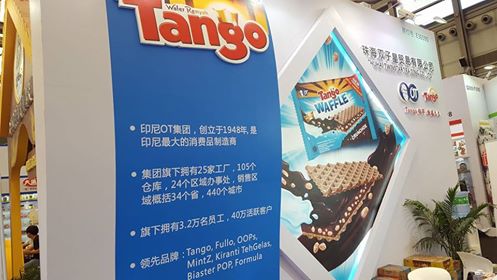 Against fake news
As part of the launch of So Tango, OT Group has launched a public education campaign to support the government's drive to stem out fake news. The #EnaknyaGakHoax or literally meaning "Tasty without Hoax" will reach out to at least 100,000 students across the country to educate students how to differentiate between real and fake news.