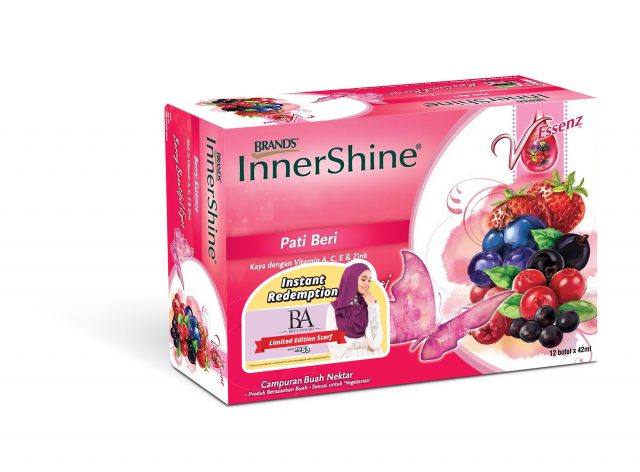 23 October 2017
InnerShine® is set to bring you a natural glow and elegance with its latest collaboration with Bella Ammara, a popular Muslimah fashion brand touted for its chic minimalistic styles and classy fabrics.
Consumers can now look forward to owning a Bella Ammara hijab worth RM65 with the purchase of InnerShine® range of beauty drinks made from nature's best to nourish you from within.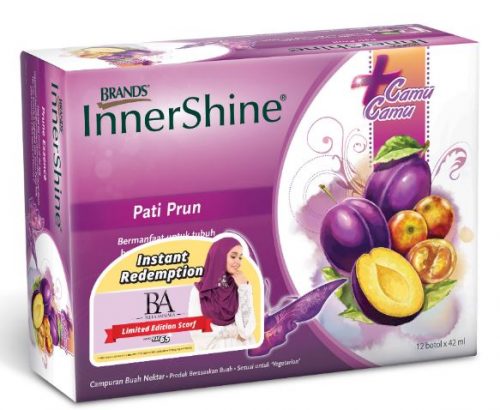 With five attractive colours to choose from – Royal Purple, Salmon Pink, Cream, Maroon and Black – collect one or more colours from now until December while stocks last. The Maroon and Black hijab is exclusively available at Watson's while the Salmon Pink and Cream hijab is available at Guardian.
The redemption is applicable with the purchase of a 24-bottle pack or two 12-bottle packs of InnerShine®  Prune Essence or InnerShine® Berry Essence at selected pharmacies nationwide.
The InnerShine® range of beauty drinks is made from premium fruits and natural goodness to nourish the body from within. Harnessing the power of nature, the natural fruit essences are gentle and safe for daily consumption.
InnerShine® Prune Essence is a natural prune concentrate enriched with soluble dietary fibre to gently detoxify the body and promote a healthy digestive system, allowing the body to absorb nutrients better. Rich in antioxidants to help combat free radicals, regular consumption of this beauty drink helps your skin maintain a youthful complexion.
Revive tired eyes with InnerShine® Berry Essence that contains all the essential nutrients needed to bring that little sparkle back in the eyes. Made from an exclusive blend of acai berries, blueberries, blackcurrants, chokeberries, cranberries, elderberries and strawberries, this delicious mix of seven premium berries is rich in antioxidants properties to combat free radical damage while relieving tired eyes, improve blood circulation and reduce fatigue.
Visit your nearest pharmacy now or call BRAND'S Customer Care Line at 1-300-228-300 or visit InnerShine Club on Facebook for promotion details.