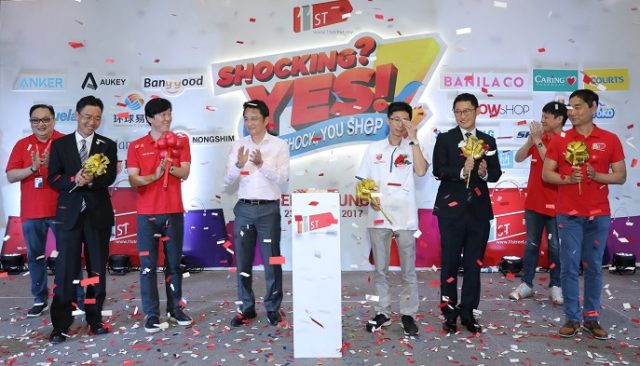 Total order volume for global products has grown remarkably by double this year as compared to 2016
11street expects 50% increase in gross merchandising value (GMV) and cross border trading order during the campaign period
KUALA LUMPUR, 23 October 2017 – The competitive fray of e-commerce has led to increased competition in the e-commerce industry in Malaysia, suggesting that growth is imminent for local operators[1]. With that, 11street – Malaysia's number 2 online marketplace – is driving initiatives to accelerate its business growth by introducing a plethora of local and international products to contribute to Malaysia's e-commerce industry.
Chuljin Yoon, Chief Operating Officer of 11street shared: "With the rapid digitalisation of economies, we are looking at a world of connected businesses. China, Japan, Korea and USA top the chart for active e-commerce penetration, so no doubt the Southeast Asian countries including Malaysia are a melting pot of opportunities for the e-commerce boom to take place.
"As an online marketplace, 11street serves the role in providing consumers with the convenience of online shopping and a greater product variety at competitive price, locally and internationally, while growing the local e-commerce market."
Yoon also pointed out that since 2016, cross-border trading (CBT) in Malaysia has been experiencing exponential growth. For 11street Malaysia alone, the total order volume for global products has grown remarkably by double this year as compared to 2016. The most popular countries whose products are most sought after were China, Japan, Korea and USA. Worth mentioning, the total order for China products grew by 9 times this year with more than 70% purchase under the home improvement and personal care range of products.
Global products of the highest demand were items such as car camera, cosmetic make-up bag, travel bag and electronic gadgets, so with this information and through their market insights, 11street is en route to execute campaigns that benefits consumers with a wider product variety, yet continues to boost the growth of e-commerce in Malaysia.
Meeting local demands with the 'Shocking? YES!' Campaign
Onwards through a past 11street survey, shoppers have revealed that price plays a key factor when it comes to online shopping; the other factor includes product abundance for all categories across international brand standards.
Yoon elaborated: "Consumers shop online for lower prices. Apart from sourcing for affordable and a greater variety of quality products, 11street's commitment is to deliver a holistic online marketplace to Malaysian consumers where they can find great discounts and an exciting shopping experience in a single place. 11street seeks to deliver convenience to our shoppers, at lower prices – guaranteed!"
More than 100,000 Lowest Price Guaranteed Deals and Free Shipping for Purchase above RM29
By collaborating with thousands of locally established and globally recognised brands, the launch of 11street's year-end online shopping campaign – 'Shocking? YES!' – will introduce 100,000 Lowest Price Guaranteed products and free shipping for purchase above RM29 under the Shocking Deals section beginning 1 November 2017 and ending 31 December 2017, with over thousands of sellers and international brands to shop from.
During the campaign, consumers will enjoy a range of products from global participating brands, namely Globalegrow (a public listed brand on the Shenzhen Stock Exchange with market capitalisation exceeding US$3 billion); Anker and Aukey (top ranking global Amazon sellers leading in the charging category, and consumer electronics and mobile tech accessories respectively, in more than 20 countries including the USA, Japan and Europe); Hada Labo (number 1 face lotion in Japan, with one bottle purchased every two seconds); OLENS (number 1 cosmetic lens supplier in Korea); MamyPoko; and Samsung, to name a few.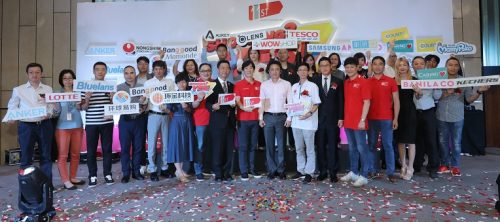 Other participating brands include Banggood, Banila Co., Bluelans, Caring Pharmacy, CJ WOW Shop, Courts, Lotte, Mamonde, Nongshim, Skechers, Tesco, UEB Technology, and many others.
11street Expects 50% Increase in Overall Business
Yoon concluded: "As consumers embark on a shopping spree during the year-end sale season, 11street aims to achieve at least a 50% increase in GMV and its cross-border trading orders. We believe that today's launch of our 'Shocking? YES!' will pave the way to redefining online shopping for Malaysians, by giving them more product variety bundled with shocking promotions that they cannot resist."
As the number 2 online marketplace in the country, 11street's growing business portfolio now has more than 40,000 sellers with over 13 million listed products, and has an average of 16 million monthly visits.
The launch of 11street's 'Shocking? YES!' campaign was witnessed by Tan Sri Datuk Ter Leong Yap, President of the Associated Chinese Chambers of Commerce and Industry of Malaysia (ACCCIM); Akira Kajita, Managing Director of the Japan External Trade Organization (JETRO) Kuala Lumpur; Yeon Sung Whan, Director of the Korea Trade-Investment Promotion Agency (KOTRA); and Adam Tan, Vice President of the China Entrepreneurs Association in Malaysia (PUCM).
For more information about 11street's 'Shocking? YES!' campaign and its series of Shocking Deals, please visit www.11street.my
About 11street (www.11street.my)
11street is a trustworthy and convenient online marketplace that offers a great variety of products at competitive prices. It strives to revolutionise today's consumers' online shopping experience by making it more personalised and engaging. 11street has a diverse selection of product categories which are tagged on Fashion, Electronics, Groceries, Health & Beauty, Kids & Baby, Leisure & Sports, Home & Living, and Books & Services including deal offerings like E-vouchers. 11street is also an optimised marketplace where its merchandising ecosystem, education and training programs can fully support sellers regardless of the size of their businesses. Established in Korea since 2008, 11street is now one of the top global e-commerce marketplace providers with 400,000 sellers serving over 30 million consumers worldwide. 11street also has a presence in Turkey and Thailand, known as n11 and 11street respectively. For more information, please visit http://www.11street.my.