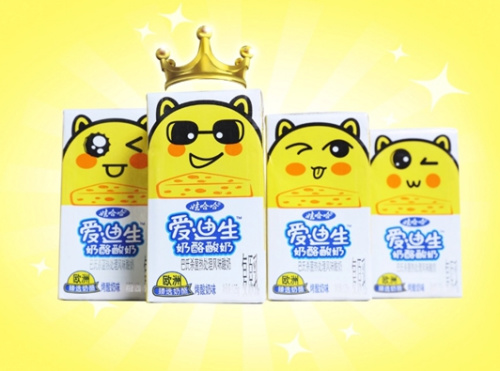 China's beverage giant Wahaha has recently unveiled its latest cross-category product – 爱迪生奶酪酸奶 Edison Cheese Yogurt Drink. Wahaha is known for being experimental with its drinks including the beer-like drink 啤儿茶爽, which is a mixture of green tea, oolong tea and malt extract. The 啤儿茶爽 (pi er cha shuang) was a spectacular flop as consumers weren't sure whether it was a beer or a green tea.
啤儿茶爽 – mix of tea and

In a desperate attempt to arrest sales decline, Wahaha turned to its Edison infant milk powder to launch the new Edison Cheese Yogurt Drink. Wahaha's overall sales in 2014% fell 7% to CNY72.8 billion. Other failures so far include the kvas fermented bread drink and the character beverage Little Chen Chen or Xiao Chen Chen, a drink made of green plum and mandarin orange peel.
Nutrition information of Edison Cheese Yogurt Drink
The 200ml Edison Cheese Yogurt Drink is a shelf-stable drink for the 3-10 age group. It is made from high-quality European cheese. The shelf life is 150 days.
American-born Taiwanese Mandopop singer-songwriter Wilber Pan on Charming Daddy
Edison Cheese Yogurt Drink is the title sponsor of the reality TV show Charming Daddy (闪亮的爸爸), which is another adaptation of the hugely successful Where are We Going Dad (爸爸去哪儿) series. The key difference between Charming Daddy and Where are We Going Dad is the actors in the Charming Daddy are still single and have not been a dad before.
It is still early to tell if this product will be a success but Wahaha does have more success in the dairy category.