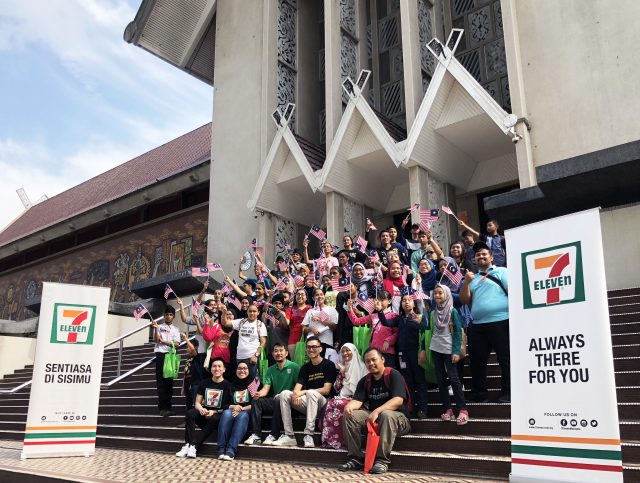 Kuala Lumpur, 6 September 2018 – In the morning of Malaysia's 61st National Day, 7-Eleven Malaysia took the opportunity to celebrate the nation's significant milestone with the children of Komuniti Program Perumahan Rakyat (PPR) Pantai Dalam and Gurpuri Foundation. The fun-filled day of learning and exploring took place in the majestic National Museum, Kuala Lumpur.
PPR homes are low cost, high-rise flats developed by the government to improve the standard and living cost of the lower income and underprivileged community. For the children of Pantai Dalam PPR, aged between 10 to 17 years old, it would be their first time visiting the museum. Joining the fun were children from the Gurpuri Foundation, a foundation founded as part of a nationwide movement to care for orphaned children and build them up to be responsible adults.
Before embarking on a journey of discovery, the children along with volunteers from 7-Eleven Malaysia and NGOHub feasted upon 7-Eleven Malaysia's Fresh to Go meals, including famous Malaysian meals such as Nasi Lemak and Bihun Goreng. Goodie bags and Jalur Gemilang flags were also distributed to the children. Playing to the theme of unity and togetherness, the children from both organizations were combined and broken into groups for a game of treasure hunt within the museum grounds. To make it more challenging, participants were required to study specific artifacts and answer historical trivia in the museum in order to advance to the next stage. Ultimately, the fastest team to pass all challenges walked away with a hamper.
Ronan Lee, 7-Eleven Malaysia General Marketing Manager said, "This year's National Day is truly a special one as we get to promote the importance of unity and teamwork to the future leaders of our nation. "United we stand, divided we fall" is the important lesson we hope that the children today would take away from the treasure hunt activity, which encourages cooperation and problem-solving within a team. As part of our community outreach efforts in promoting unity, we are proud to have completed this activity in one of Malaysia's most iconic landmark and bringing together Malaysians from different backgrounds."
For more information on the types of assistance required by these organizations, visit their Facebook at www.facebook.com/wargaPPR and www.facebook.com/gurpurifoundation.
About 7-Eleven Malaysia
7-Eleven Malaysia Holdings Berhad through its subsidiary 7-Eleven Malaysia Sdn. Bhd. is the owner and operator of 7-Eleven stores in Malaysia. Incorporated on 4 June 1984, 7-Eleven Malaysia has made its mark in the retailing scene and has been a prominent icon for over 33 years. 7-Eleven Malaysia is the pioneer and largest 24-hour standalone convenience store operator in Malaysia with over 2,240 outlets nationwide and serves more than 900,000 customers daily. 7-Eleven stores can be found across bustling commercial districts to serene suburban residential compounds throughout Malaysia, from petrol stations and LRT stations to shopping malls and medical institutions. 7-Eleven is Always There For You.