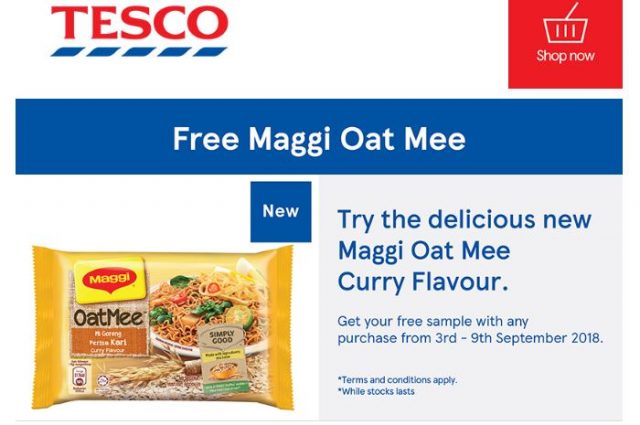 Fresh in the inbox is an email from Tesco Malaysia announcing free samples of Maggi OatMee with every purchase on 3-9 September 2018. Terms and conditions apply. Interestingly, OatMee is described as "new".
Well, it is not new as Maggi OatMee, made from 49% real wheat and 51% wholegrain oat, was launched in Malaysia back in 2016. In Malaysia, Maggi OatMee currently only comes in one flavour – curry. In Singapore, there are two choices – curry noodle soup and Mi Goreng in soy chicken flavour.
The longevity of OatMee seems to suggest there is a market for oat-based healthy instant noodles. However, could it be (just a thought), this is a product that Maggi is offering a lifeline just to showcase how it has innovated to bring better-for-you (BFY) noodles to Malaysian consumers. We think it is about time to replace the wheat noodles with vermicelli (bihun). Well Maggi already has its Maggi Perencah Bihun Goreng Kampung. Maggi can even embrace the low-carb Shirataki noodle to tap into the trending low-carb Keto diet to improve its BFY credentials.