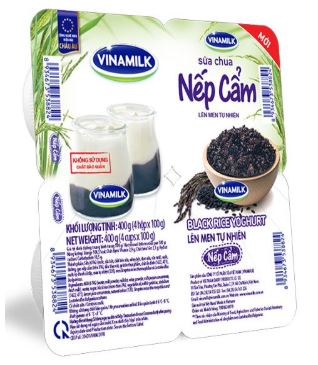 Vinamilk has unveiled black rice yoghurt inspired by the traditional black sticky rice yogurt dessert (sữa chua nếp cẩm). The dessert is a summer treat to cool down during the hot weather. The price for a pack of 4x100g is VND 30,360.
Sữa chua trộn với đá bào, hòa thêm nếp cẩm món nào ngon hơn?SỮA CHUA VINAMILK NẾP CẨM MỚI thơm ngon bổ dưỡng, không chất bảo quản đã chính thức ra mắt rồi cả nhà ơi!!!Bằng công nghệ lên men tự nhiên đạt tiêu chuẩn Châu Âu cùng sự hòa quyện độc đáo giữa những hạt nếp cẩm thơm nồng và sữa chua sánh mịn, sữa chua Vinamilk Nếp Cẩm mới trộn cùng đá bào mát lạnh sẽ là một bản giao hưởng vị giác đầy thú vị mà cả nhà mình không thể chối từ trong dịp hè này ;).Nếp cẩm còn được xem là một món ăn "thần kỳ" tốt cho sức khỏe, tim mạch, hệ tiêu hóa và có hàm lượng dinh dưỡng rất cao đấy. Tìm hiểu thêm tại đây nào https://giacmosuaviet.com.vn/products/sua-chua-an-vinamilk-nep-cam-vi-4-hop-x-100g#Vinamilk #SữachuaVinamilkNếpcẩm #Vịngontruyềnthống

Posted by Vinamilk – Bí Quyết Ngon Khỏe Từ Thiên Nhiên on Ahad, 5 Ogos 2018
Also recently launched is the pineapple yoghurt with aloe vera pieces. The price is VND 25,256 per 4x100g.