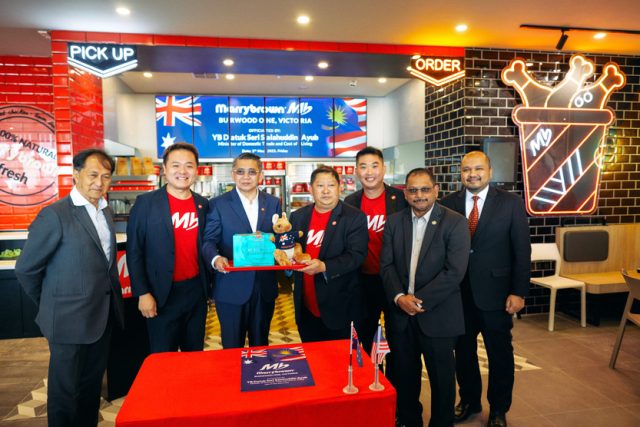 MELBOURNE, 11 MAY 2023 – Marrybrown, Malaysia's largest homegrown Halal Quick Service Restaurant (QSR) has made history by opening its first outlet in Melbourne, Australia. The official opening was officiated by Yang Berhormat Datuk Seri Salahuddin Ayub, Minister of Domestic Trade and Costs of Living – marking a significant moment for the country as the first Malaysian halal QSR to make its mark in Australia.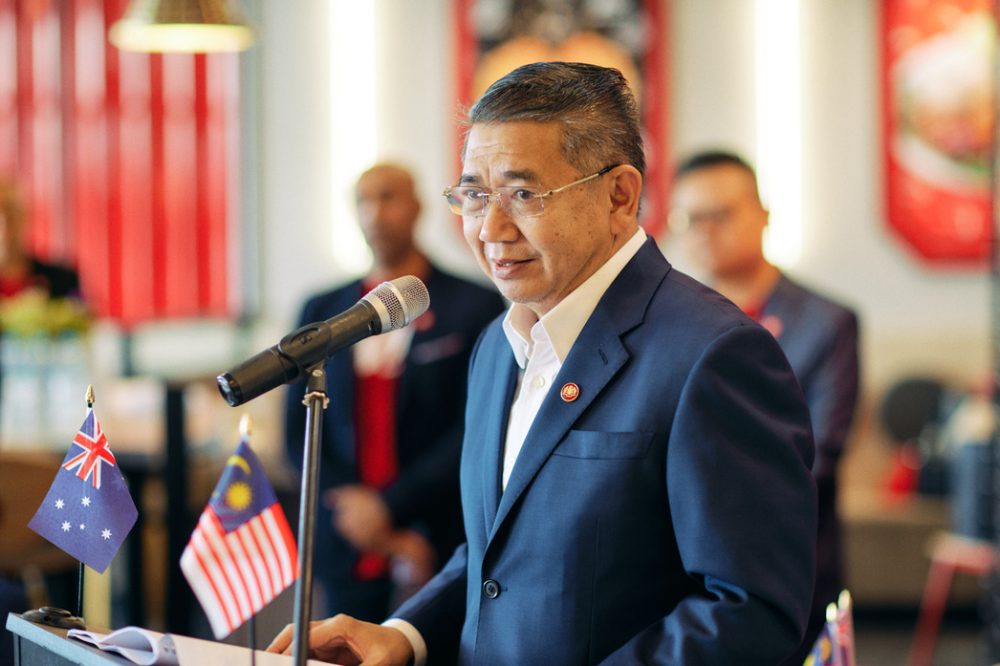 Dato' Joshua Liew, CEO of Marrybrown, expressed his excitement at the launch of the brand's first outlet in Australia and for the opportunity to share their passion for good food with the people of Melbourne and beyond.
"We are thrilled to bring Marrybrown's unique flavours and hospitality to the Australian market. Our goal has always been to bring joy to people through good food, and we believe that our signature dishes, including our crispy chicken, will be a hit with both the Australian and Malaysian customers. We are committed to providing our customers with a high-quality dining experience, and we look forward to welcoming them to our new location in Melbourne."
Marrybrown's commitment to quality and customer service is reflected in its decision to open its first outlet in the suburb of Burwood, conveniently located at Burwood One Shopping Centre itself. This move is set to benefit shoppers in the area who will now have access to the brand's unique blend of Malaysian and Western flavours where shoppers can enjoy a delicious meal with family and friends.
Marrybrown's menu is sure to satisfy every taste bud with its wide variety of tasty meals. From its crispy juicy chicken that the brand is known for, to delicious burgers and specialty wraps, there's something for everyone. Marrybrown also offers a range of Malaysian delights such as Nasi Lemak, Fried Rice with Satay, Curry Rice, and more. Whether you're a fan of spicy or sweet, savoury or indulgent, Marrybrown's menu is sure to have something to delight your palate, including quenching your thirst and satisfy your sweet tooth with their range of hot and cold beverages and desserts. With a menu that's the only one of its kind in town, Marrybrown is truly something different for everyone.
Marrybrown's success in the Australian market is set to continue with the opening of two new outlets in downtown Melbourne CBD before the end of the year – one of them to be at Melbourne's prestigious landmark, Crown Casino. The brand is not looking to rest on its laurels anytime soon and is envisioning higher growth in the Australian market by opening 30 more outlets across Australia, spanning across different states in the near future.
"As Malaysia's leading fast-food chain, we're proud to expand our presence in Australia and showcase the best of Malaysian flavors and its rich culinary heritage on the global stage," said Dato' Joshua.
"Our plans for the future include building on the success of our Melbourne locations and expanding to other cities across Australia, such as Sydney and Perth. We believe that everyone should have access to high-quality Halal food, and we're committed to serving delicious and affordable meals to all our customers."
Marrybrown currently serves millions of customers in more than 500 restaurants across 16 countries with the objective of delivering the highest standard of quality, service, cleanliness and value for the perfect dining experience.
For more information on Marrybrown's promotions and delivery services, please visit:
Website: https://marrybrown.com/
MB App: https://mbapp.marrybrown.com/
Facebook: Marrybrown Malaysia
Instagram: Marrybrownmy
YouTube: Marrybrown TV