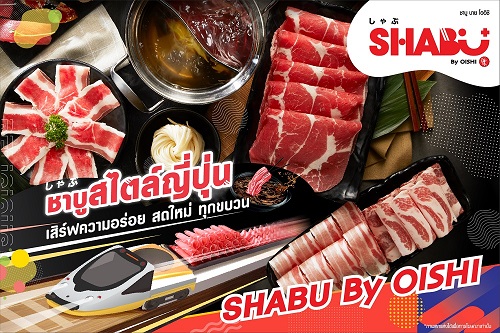 21 June 2022 – "OISHI", a King of Japanese Food, enhances the Japanese restaurant business portfolio under the OISHI Group by continually developing new brands. Recently, the company has launched "SHABU by OISHI" to deliver a Japanese food experience through the charm of authentic Japanese Shabu Shabu flavors, and to meet the needs of premium Shabu lovers. The first 2 branches have been pinned for opening, which are: Fashion Island (Ramintra) and CentralPlaza Grand Rama 9.
Mrs. Nongnuch Buranasetkul, President of OISHI Group Public Company Limited or OISHI disclosed that at this time, the epidemic situation has begun to improve in a better direction coupled with policies and measures to relax businesses and activities. These positive factors make people more likely to ease their worries and gradually return to their daily lives outside the home. In addition, consumers also pay attention to health care, especially choosing healthy and nutritious food. One of them is the popular Japanese food such as Shabu Shabu and Sukiyaki, which are complete dishes with nutrients and nutrition, and are always favored by consumers.
"As for OISHI, after opening a hybrid Japanese restaurant OISHI BIZTORO recently, we continue to focus on creating opportunities for growth and adapting diversified and inclusive business models to fill market gaps and consumer needs in every situation. We continue to strengthen our portfolio by launching a new brand of Japanese restaurant under the name "Shabu by OISHI", highlighting the strengths of quality in order to experience the deliciousness of the ingredients in full taste, according to authentic Japanese Shabu Shabu recipe. SHABU by OISHI offers A La Carte service at an affordable price while ensuring deliciousness and safety with a personal shabu-shabu pot or a individual pot, which perfectly responds to hygiene and eating-drinking behavior for today's consumers," added Mrs. Nongnuch.
"SHABU by OISHI" is ready to deliver a delicious experience through the charm of authentic Japanese Shabu Shabu flavor with carefully selected ingredients, such as Japanese Wagyu (A4) Beef, Australia Wagyu Beef, Australia (Chuck Roll) Beef, US (Short Plate) Beef, Kurobuta Pork, Belly Pork, etc, fresh sliced plate by plate to the original soup that has been simmered and flavored with meticulousness, which is available in 4 recipes and 4 flavors: Shabu Shabu Soup, Sukiyaki Soup, Miso Soup, and Dashi Soup. Customers can choose up to 2 delicious flavors (at the same time) and have the freedom to create their own favorite set menus through two services, which are:
• A La Carte Menu offers a complete range of Beef, Pork and Seafood. Recommended dish for the pork menu group is "Pork Bacon", priced at 109 baht, and "Ribeye" for the beef menu group at 139 baht (which is the starting price for a single dish – medium size), etc. There is also a special menu such as a single dish menu / pork combo set (or beef) from XXL size to Japanese Wagyu (A4) beef menu as well.
• Set Menu Service, offering full and worthwhile, complete in one set. Every set serves a main dish with soup (choice of 2 flavors), mixed vegetables (small), Japanese rice (or Udon), fresh eggs and Ponzu/Komadare dipping sauce. Recommended dish for the pork menu group is "Bacon Pork Set" priced at 259 baht per set and "US Beef Set" (belly part) for the beef menu group, priced at 339 baht per set, etc.
"In addition, "Shabu by OISHI" is ready to make a difference, exciting and delicious through innovation and modern technology integrated into the service. The highlight is that the food is served with an automated food delivery system or a train belt system, which is fast, less touching, and delivered directly to the table. It also includes a self-service food ordering system through QR code scanning with a personal mobile phone and a contactless payment system." Mrs. Nongnuch concluded, emphasizing on outstanding services of the restaurant.
Experience the joy of every moment through the charm of authentic Japanese Shabu Shabu flavors at a cost-effective and accessible price, which is officially available today at "Shabu by OISHI" both at (1) Shabu by OISHI Fashion Island (Ramintra) (3rd floor), and (2) Shabu by OISHI CentralPlaza Grand Rama 9 (6th floor). You can follow news and other interesting promotions, just click on the OISHI Food Station fan page: www.facebook.com/OishiFoodStation.