Dalgona coffee has become a viral in a world impacted by COVID-19. Now Ayam Brand would like consumers to try their version of Dalgona coffee with Ayam Brand Trim Coconut Milk. The recipe is simple.
Mix the coconut milk and fresh milk to form the base. The next step is to mix the instant coffee, salt, sugar and hot water and pour on top of the fresh milk and coconut mixture.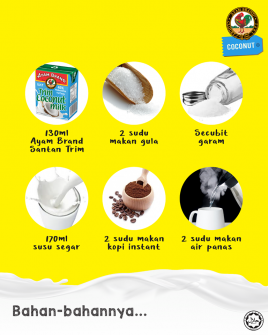 As more consumers experiment with their food and drinks, this opens up the opportunity for companies to jump into the bandwagon to position their products as the essential ingredient in Dalgona coffee.