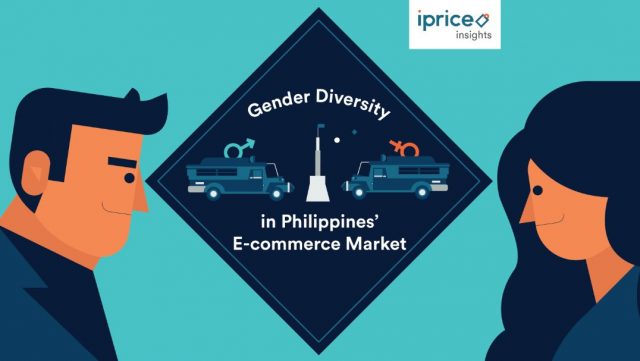 Bolstering the role of women in the workplace has become a global issue as gender inequality continues to be a critical economic challenge.
The population of women accounts for about half of the world's working-age population, yet women are less likely to be given opportunities for economic participation. "If every country matched the progress toward gender parity of its fastest-improving neighbour, global GDP could increase by up to $12 trillion in 2025." according to the McKinsey Global Institute 2018 Report.
In Asia Pacific, targeted policies to address gender inequality could fuel an additional $4.5 trillion to the region's combined annual gross domestic product by 2025, or 12 percent better than if the status quo were maintained. The Philippines, APAC's most gender-equal country, is projected to expand by as much as $40 billion by 2025 if it can bring more poor and less-educated women into the workforce.
As more and more businesses continue to shift/integrate technology, iPrice Group analysed the top-level management of PH's biggest E-commerce to understand the extend of gender diversity in a market-specific industry. The aim of the study is to determine if there is gender diversity or gender inequality for each career levels: C-Levels, Senior Vice President, Vice President and Heads. Our study finds that women hold more positions in the overall top-level management while senior roles: SVP and C-Suite are more common in men.
Women Dominate the Overall Top-Level Management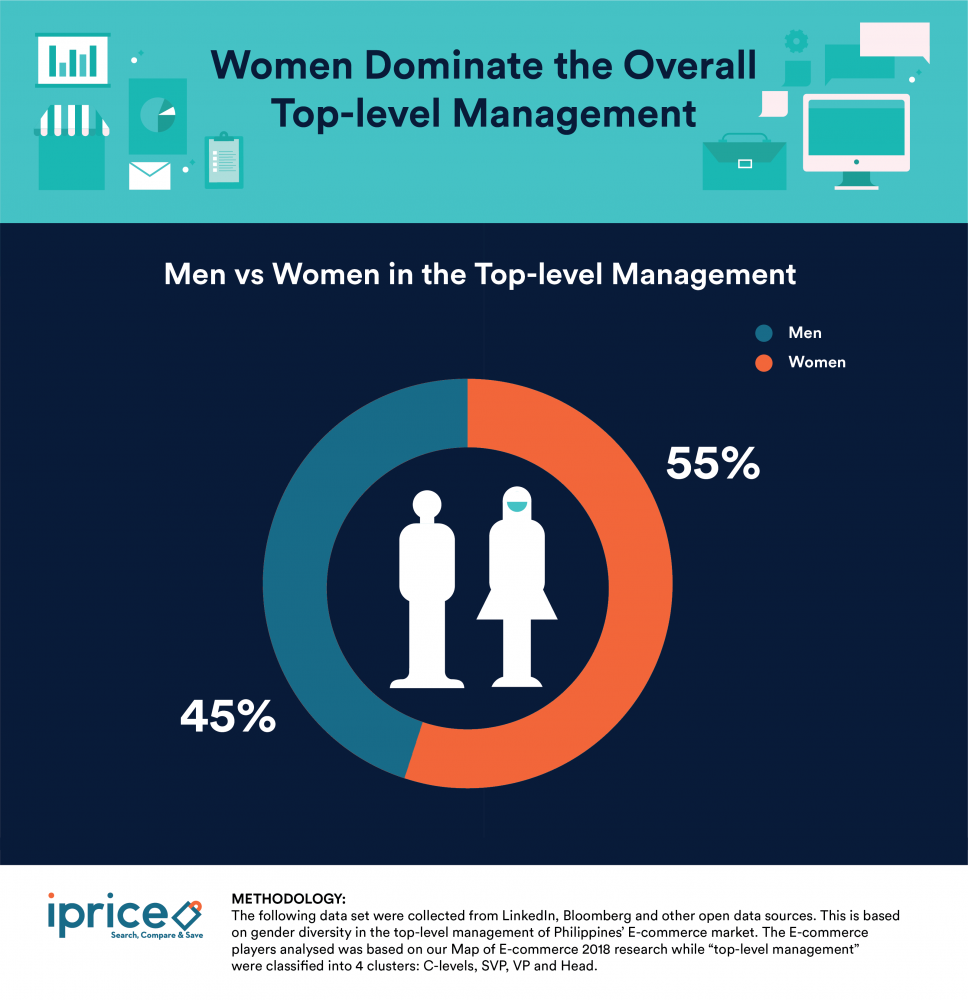 After examining Philippines' Biggest E-Commerce (based from iPrice Group Map of E-commerce findings), women dominate the overall top-level management positions by only 10%.  The population of women comprise an average of 55 percent in PHL E-commerce top-level management, surpassing the global average standard of 24 percent (based from Grant Thornton research 2018).
According to Global Gender Gap Index, Philippines has consistently performed as one of the most gender-equal workplace in the world. Philippines took the helm in South East Asia with the most number of women in leadership, technical and professional roles. Additionally, the country scored higher than Thailand and Singapore, countries that fall into the upper middle-income to high-income group.
From its last year's report, Philippines slipped three notches to 10th place, partly due to its performance drop on wage equality, health and survival gender gap. The nation fared well in the political empowerment of women specifically on women handling managerial and executive positions and labour force participation.
The rationale for these findings is in the general upward mobility of women in the Philippines which makes its talent pool robust. For instance, the country's legislature, Magna Carta of Women Act in 2009 promotes gender equality in government by mandating quotas for the proportion of women in government jobs. The same legislature has encouraged the private sector to follow although it stops short of mandated quotas.
Men Hold More Senior Roles In C-Suite and SVP Roles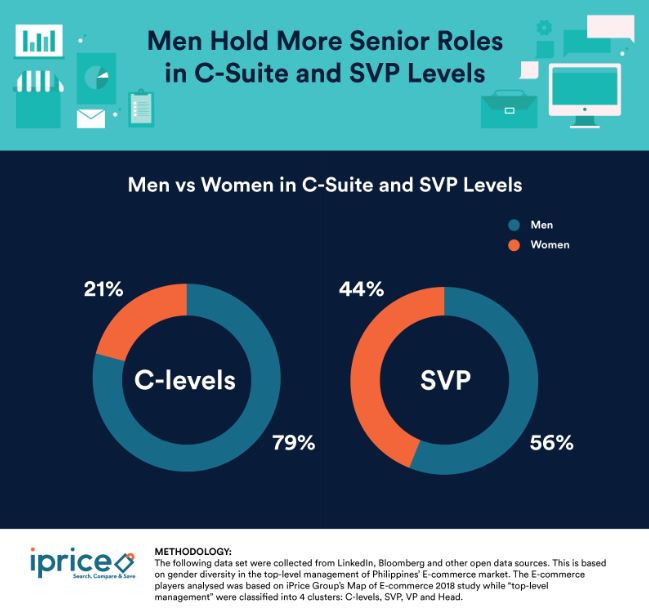 Despite that the women population in the workplace dominates men, the population became increasingly male in senior roles: C-levels and SVP-level (Senior Vice President) roles.  The percentage of men and women in SVP-level are 56 percent and 44 percent respectively. Meanwhile for C-levels, the percentage of men and women are 79 percent and 21 percent respectively. The men population lead is 14 percent for SVP-level and 58 percent for C-Levels. In general, the results suggest that gender gap continues to widen substantially higher up the managerial career ladder.
Based from the Philippine Institute for Development Studies (PIDS) research, the traditional gender role that "women are homemakers" and "men are providers" have influenced the gender inequality for women employees' chances of breaking into the labour market. Moreover, this backward mentality of "women nurture, and their advantages are in housework," while "men provide, and their place is in the labour market," have led to discrimination against women who aspire for career, according to the authors of the paper, Connie Bayudan-Dacuycuy and Lawrence Dacuycuy.
Another rationale to our findings is that more career women tend to sacrifice their jobs for family life. The share of "opt-out" moms (those who are highly educated, high-achieving women) who choose to stay at home in order to care for their family rose to 29 percent in 2012, from its 23 percent low in 1999, according to Pew Research Center report. While the study covers the US population, it validates that the existing gender role dilemma (in the workplace) is a global status quo.
    Women Hold More Roles in VP and Head Levels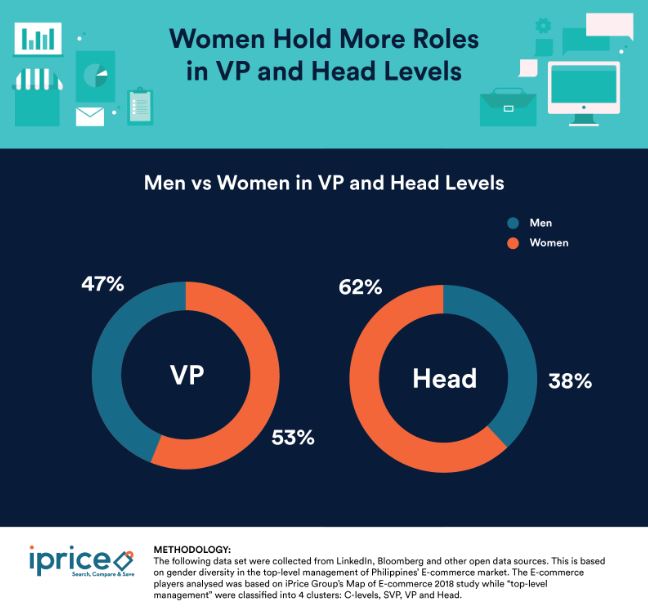 While the population distribution became increasingly male in senior roles, women hold more roles in the VP-level and Head-level. The percentage of men and women in Head-level are 38 percent and 62 percent respectively. For VP-level, the percentage of men and women are 47 percent and 53 percent respectively. Hence, there are more women in VP-level and Head-level by 6 percent and 24 percent which is particularly smaller than the lead of men in SVP-level and C-Levels. Meanwhile, there is a positive result in SVP-level and VP-level as the distribution of men and women stand close with only 14 percent and 6 percent difference.
Overall, the plan in achieving women's economic empowerment (to address gender gap in the workplace) has a strong global framework with dedicated economic programs such as adoption of the 2030 Agenda, the Addis Ababa Action Agenda and the 10-year review of the World Summit on Information Society. Currently, UN Women and International Telecommunication Union created an action plan to close digital gender gap which is integral in achieving the Agenda 2030.
Methodology:                                         
The report comprised an analysis of gender diversity in Philippines' 10 biggest e-commerce players based on Map of E-Commerce report for the first quarter of 2018. A total of 206 employees holding top-level management positions in these companies were analysed using "publicly available" data from LinkedIn, Bloomberg and other open data sources.
For the full report please do refer on this page: https://iprice.ph/trends/insights/gender-diversity-management-philippines-e-commerce/
About iPrice Group             
iPrice Group is operating as a one-stop shop e-commerce aggregator across 7 markets in Southeast and East Asia with key feature in price comparison. It's meta-search feature collates e-commerce products: home and living, cosmetics, grooming, fashion and electronics while its key feature in price comparison specifically caters to electronics.