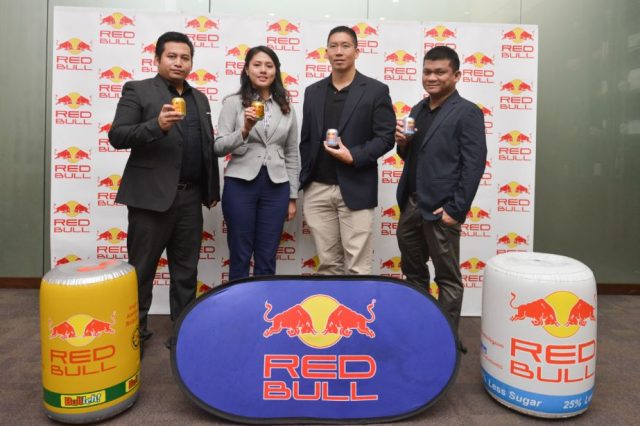 Red Bull Malaysia hosts panel discussion to remind Malaysians to adopt an active and balanced lifestyle that enables them to achieve more in a day
KUALA LUMPUR, 5 September 2018 – Recent studies revealed that 61% of Malaysian adults are physically inactive[1], pinning Malaysia on the globe as one of the least physically active countries. This revelation comes as no surprise, for we have made headlines thanks to our unhealthy eating habits and sedentary lifestyle that lead to the rampant rise of obesity and non-communicable diseases. Red Bull, the number one energy drink brand in Malaysia, today hosted its first panel discussion highlighting the crucial need for a balanced and active lifestyle, to cultivate a healthy Malaysian community.
At the panel session, Jate Samathivathanachai, Country Manager of Allexcel Trading, Red Bull Malaysia shared: "Leading an active lifestyle means more than just being physically active – it is about empowering ourselves to achieve greater productivity and do more. When Red Bull began in Thailand in 1975, the brand's motivation was to create a beverage that could revitalise our bodies and minds especially in moments of increased physical and mental demand. Today, while our motivation remains the same, we also want to go the extra mile to help Malaysians understand the importance of getting their work done, yet receive the extra energy to do more in their personal lives by way of achieving work-life balance."
Key to Healthy Lifestyle is Balance
Dr Chang Lin Faun, Clinical Nutritionist and Founder of Nutrimed Healthcare Consultancy and one of the invited panellists, said that stress is one of the leading catalysts for stomach and digestive problems, excess weight, and chronic inflammation or illneses such as heart problems. "When the body experiences a full day of mental or physical stress, it is important to know the type of foods to consume for countering stress and increasing physical and mental productivity. Taurine, for example, plays a key role in controlling and calming the central nervous system. It works by regulating the health of our immune system with its anti-oxidant functionality, and from there, reduces fatigue and muscle damage in our body. A deficiency in taurine, however, will lead to poor brain function.
"To yield a productive day, one needs a sharp mind and strong body and this is where Vitamin Bs plays an important role. This group of vitamins work with the brain chemistry to balance neurotransmitters and as a result, help to mitigate stress. Of course, a balanced diet consisting of at least seven types of fruits and vegetables, exercising three times a week for at least 30 minutes, and staying hydrated play important roles too. The key is to understand the functionalities of taurine and Vitamin Bs, and incorporate them into one's daily routine for a lifestyle that is productive but balanced."
Staying Focused for Increased Productivity
Other panellists – Dr Adrian Wong, a medical-doctor-turned Entrepreneur and Founder of Tech ARP, one of the leading consumer technology news portals in Malaysia, and Firdaus Feeq, Owner and Founder of CVS Studio, Malaysia's first 24-hour studio rental services and a disruptor in the industry – shared that in their line of work, sustaining their energy and staying focused are the very essence to staying ahead of their game.
"I work seven days a week, and my day starts literally from the moment I wake up until I clock out mentally.  My daily workload requires no less than three monitors to keep track of everything. Red Bull helps me maintain my mental acuity throughout the day. Being productive means more than just staying awake. You need to be mentally sharp as well," Dr Wong revealed.
New father Firdaus added: "Being an entrepreneur accords me the flexibility to manage my schedule but with a demanding newborn at home, I sometimes find it a challenge to run a 24-hour studio rental business and caring for my son at home. This is why I value productivity, because for someone who is always on-the-move, I need to ensure that work is running on autopilot, my team receives my remote support and my family life is well taken care of. Oftentimes I turn to Red Bull when I need the added boost to sustain me through that extra mile."
"Red Bull is no stranger to various sports communities, but it is time that we step up the game and reinforce the education on the efficacies of consuming ingredients that are beneficial, especially for those under tremendous mental stress. Energy drinks are not only energy boosters – they are the spark for mental alertness that bring forth greater productivity and higher energy levels. We hope that by leveraging our panellists' personal experiences and expertise that Malaysians are empowered to achieve greater productivity with a balanced lifestyle," Samathivathanachai concluded.
Charge Ahead with A Brand New Toyota Hilux
To realise this productivity, Red Bull is running a nationwide campaign where consumers stand a chance to win prizes up to RM600,000, which includes two pick-up trucks, cash prizes and exclusive merchandise.
During this contest period, participants only need to purchase a Red Bull Gold or 25% Less Sugar can to participate. Two lucky winners will get to drive home a brand new Toyota Hilux. Apart from that, there will also be cash prizes worth up to RM400,000 up for grabs. Customers stand a chance to win cash rewards from RM50 to RM500, or even exclusive Red bull merchandise every week with every gold can purchased.
For more information on Red Bull's nationwide promotion, visit http://penuhiimpian.redbull.com.my/home to get your hands on these exciting prizes.
About Allexcel Trading Sdn. Bhd.
Allexcel Trading Sdn. Bhd. ("Allexcel") is the brand representative and exclusive agent for Red Bull® Energy Drink and Warrior® Sparkling Lifestyle Drink in Malaysia. Allexcel launched Red Bull® in Malaysia in 1993 and the brand is currently the No. 1 energy drink in the country. Red Bull has proven to its consumers its product performance in maintaining alertness, endurance and enhancing performance – stimulating both mind and body. For more information, please visit www.redbull.com.my
[1] Physical Activity and Its Correlates among Adults in Malaysia: A Cross-Sectional Descriptive Study