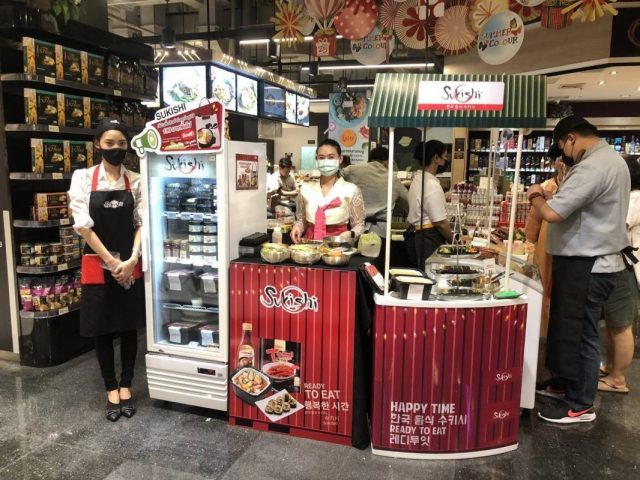 23 July 2021 – Charoen Pokphand Foods Public Company Limited (CP Foods) has offered free spaces for food service partners to distribute their takeaway products in a bid to lessen impact from the latest COVID-19 restriction imposed in 13 dark-red zone provinces.
Restaurants and eateries located in shopping centers in the maximum and strict controlled areas have been ordered to close from 20 July to 2 August 2021. Sukishi, Auntie Anne's and ChouNan, however are now using the area of CP Fresh Mart stores and Lotus Supercenter as a channel for their takeaway services.
CP Foods' Vice president, Supara Sriboon, said many efforts has been made by the company to give a helping hand to those restaurant partners that struggle to run their business due to COVID-19 outbreak.
"Restaurants have to manage their stocks of ingredient. Aside that, there are many other expenses that they need to pay, including labor costs, and renting fee, while their income is almost at zero. We, therefore, offer spaces at CP Fresh Mart and Lotus Supercenters in 13 provinces for our partners too set up a Takeaway booth without any charge. This will help our partners to earn more income during the lockdown," Supara said.
She added that previously, CP Foods has offered a digital marketing support to boost delivery sales of the partner's restaurant.
Sukishi's owner, Noppadol Jirawaraphan, told that his restaurants are selling "Kurobuta Lover set", using CP Foods' famous CP Kurobuta pork and Sukishi's signature Korean sauce in a price of 369 baht. The restaurant also launched their signature sauces at Lotus nationwide. "CP Foods is our valued partner that help us to adapt to the changing crisis.
ChouNan's CEO, Kulawachara Bhurichayawarodom, said the latest restriction has resulted serious damaged to the business than any other waves of the outbreak. All 16 branches of ChouNan are forced to shut down, resulting zero income. ChouNan and CP Foods are working together for the solution.
As a result from joint effort, ChouNan will sell ChouNan's Meal Boxes, using its best-selling items such as Premium Butadon Pork Rice Bowl, which uses premium grade pork such as CP Kurobuta, and pork curry rice menu to be sold at the front of the CP Fresh Mart store and at the booth in the Lotus Supercenter. In addition to ready meals, raw materials are also available for customers to cook at home.
Auntie Anne's D.I.Y "Sausage Pretzel Roll" set and Sukishi's Kurobuta Lover set are now available in Lotus Supercenters in Bangkok and nearby areas.