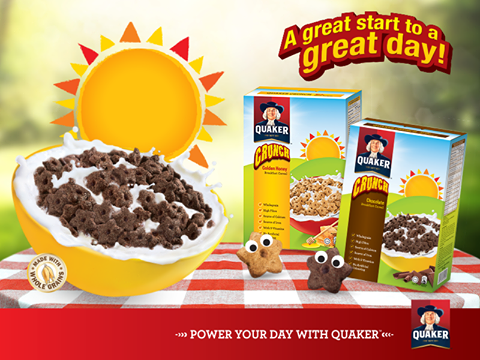 PepsiCo's Quaker has up the ante with the introduction of the Quaker Crunch range of breakfast cereals in the Malaysia market. The new Quaker Crunch (Chocolate and Golden Honey flavours) is manufactured locally for PepsiCo (Malaysia) Sdn Bhd and is distributed by DKSH Malaysia Sdn Bhd in West Malaysia, Moh Heng Company Sdn Bhd in East Malaysia and Pepsi-Cola Far East Trade Dev. Co., Inc. in the Philippines.
Quaker Crunch is made with whole grains and Quaker oats. It has fibre, protein, calcium 9 vitamins and 2 minerals. Children and the morning breakfast occasion are the key targets. The Chocolate and Golden Honey flavours make it appealing to kids.
The price is also more affordable compared to the imported Quaker cereal. The Quaker Oatmeal Squares (412g) is selling for a price of RM 13.77 (RM 33.4 per kg), while the Quaker Crunch (300g) is  retailed at RM 8.99 (RM 30 per kg). Compared with its competitors Kellogg's (300g) and Nestle (330g), Quaker Crunch (300g) is the cheapest.
Imported Quaker cereals
However, Quaker Crunch does not have the best shelf placement on the rack. At Giant, it is placed on the bottom rack.
Photo taken at Giant at The Mines
Conclusion
The Quaker oatmeal is healthy but it can be too plain for kids. The new Quaker Crunch is seen as a move by PepsiCo to capture a share of the children morning breakfast eating occasion with something that is more palatable for kids – golden honey and chocolate flavours.