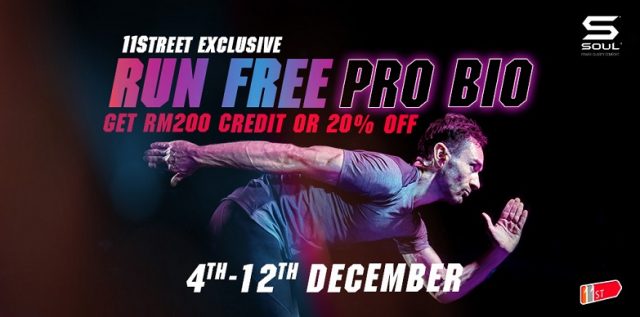 Key highlights:
11street partners with SOUL Electronics to introduce the world's first artificial intelligence wireless earphones equipped with BiomechEngine® and real-time voice coaching.
Through GAIT analysis technology, the RUN FREE PRO BIO paired with the SOUL Fit App provides detailed analysis on running form and injury risk to enhance your running performance.
With an ergonomic design and interchangeable ear locks that give you a perfect seal in at all times, the RUN FREE PRO BIO also features safety LED and reflective cables for extra protection during night run.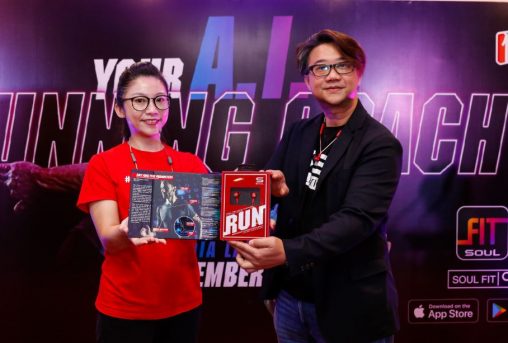 Kuala Lumpur, 04 December 2018 – It has become more apparent that Malaysian lifestyles are evolving into a more active and healthier one. Running has become one of the most common forms of exercise thanks to its accessibility – anywhere, anytime – and cost efficiency. However, like any other form of exercise, even one as simple as running, improper posture can lead to poor training efficiency or injuries. Providing a solution to this, 11street (www.11street.my), one of the leading online marketplaces in Malaysia, is partnering with SOUL Electronics, a global leader in consumer audio designed for the active and fitness-oriented lifestyle, to introduce the world's first artificial intelligence wireless earphones, the RUN FREE PRO BIO with a voice coach function which gives you real-time advice during your run.
The latest in sports technology, the RUN FREE PRO BIO earphones powered by Beflex BiomechEngine® was designed to serve as your own personal coach that monitors your form to improve your running efficiency and lower your injury risk. Accompanied by the SOUL FIT app, the RUN FREE PRO BIO collects GAIT Analysis data by measuring them against various parameters such as your head tilt angle, symmetry, vertical oscillation, step length and width, cadence and shock etc. The SOUL FIT app then analyses your runs and provides you with detailed graphics and real-time feedback to improve your running performance and minimize your chances of an injury. With this, you will be able to review your performance and correct your running form after each of your training.
Terry Ho, Regional Business Manager of SOUL Electronics Limited said, "We design all our products to meet the needs of avid athletes and everyday fitness enthusiasts. We stay on top of the latest trends and are continuously in tune with the specific needs and desires of our consumers. The new RUN FREE PRO BIO is the first A.I. earphones we developed through our partnership with Beflex to provide a personalized wearable coaching solution. SOUL wants to bring the new generation of sports technology to the market, moving from tracking to coaching is aimed for all our upcoming A.I. products. Part of our goal through this collaboration with 11street is to tap into the community of Malaysians who are proactively pursuing healthier lifestyles and cater to their needs."
Jenny Tay, Chief Marketing Officer of 11street said, "We're delighted to be seeing more Malaysians investing in their health, based on our recent 11.11 sales, which catapulted the 'Health & Beauty' product category to the top three categories that shoppers purchased from. As such, this partnership with SOUL Electronics is both a timely and strategic move on our part to meet our customers' needs by expanding our product listings within this category. We are thrilled to be the first in Southeast Asia to make the RUN FREE PRO BIO, the world's first artificial intelligence earphones with GAIT Analysis, available to our customers during 12.12 sales and we foresee further adding more products to our platform that continue to encourage a healthy lifestyle."
The RUN FREE PRO BIO wireless earphones boast a superior sound quality with apt-X stereo decoder for seamless connectivity in any environment and up to 11 hours of playtime with each full charge. Its weatherproof function also provides protection from sweat and water, while the ergonomic interchangeable ear locks provide the perfect seal and for the different sizes of ears. Adding to that, the earphones are equipped with safety LED lights and reflective cables for extra visibility and safety during night runs. SOUL continues to expand their sports and lifestyle series and focus on True Wireless and A.I. products development to offer audio industry's best audio solutions that offer sound quality, comfort, and fashion.
Via this partnership, customers can now pre-order the RUN FREE PRO BIO earphones exclusively on 11street for RM699 from 4 to 12 December 2018. Customers purchasing the earphones are entitled to the 1-on-1 exchange within one year with terms and conditions applied and extended warranty is available by scanning the QR code provided on the box. Available in Power Grey and Passion Red with multiple ear tip sizes, the earphones are compatible for any user in any running environment, making the RUN FREE PRO BIO your best personalized wearable coaching solution throughout your fitness journey.
Starting from 4 to 12 December, SOUL Electronics will be giving 20% off storewide discount on its official store on 11street, not applicable to RUN FREE PRO BIO. Those who have purchased the RUN FREE PRO BIO earphones will receive RM200 credit coupon upon purchase confirmation. Customers may also purchase selected SOUL products from Boost App up to 20% off from 4 to 31 December 2018, while stocks last.
Also, 11street is also offering customers incredible deals and promotions for the upcoming 12.12 sales. From 5 to 10 December, customers will have access to 12.12 Special Brand Coupon Downloads on the Top 12 products from the Top 12 brands across various categories as well as Brand Sales up to 90% off. Shoppers can also get excited about the Christmas Game Promos on 11street, where they can check-in daily to receive coupons.   That's not all!  11street will also be offering Flash Deals from 11 to 14 December, as well as eVoucher Deals from 18 to 20 December.
For more information, visit: https://www.11street.my/store/soulelectronics
About SOUL Electronics
SOUL is a global leader in consumer electronics and manufacturing, with a rich history in delivery innovative technology and concepts including high quality audio, noise cancelling, and wireless products. Renowned sound engineers and Grammy award winning artist Chris "Ludacris" Bridges created the first headphones together. Our team is accustomed to pushing the envelope in making the best audio products for every lifestyle at affordable prices. We represent a vision for innovative superior features-driven designs with state-of-the-art acoustics, and a stylish appearance that can be found in SOUL's past and future products.
For more information, please visit: www.soulelectronics.com