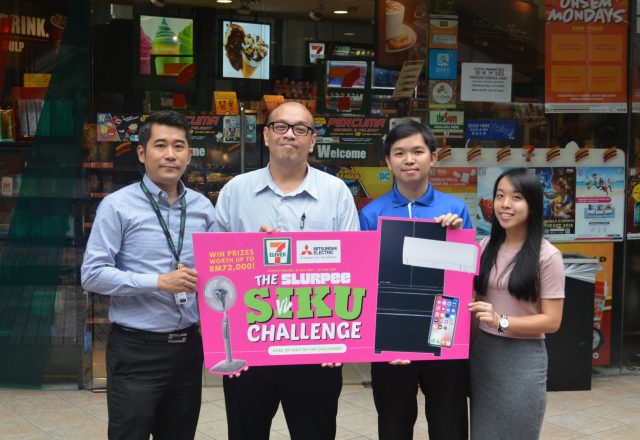 Kuala Lumpur, 5 January 2018 – Think you might have a hidden talent using your elbows, but never had a chance to test it out? Here's your chance! 7-Eleven Malaysia is delighted to launch its first ever – The Slurpee Siku Challenge, and submissions are now open until 29 January 2018 with impressive prizes worth up to RM72, 000 up for grabs!
To participate, contestants are required to purchase a Slurpee of any size at any 7-Eleven stores, keep the receipt, and take a creative 7-second video of them self drinking Slurpee while holding the cup using only their elbows. Yes, that's right – elbows. Once completed, entries have to be posted publicly through the contestants' personal Instagram or Facebook page with the dedicated hashtags #TheSlurpeeSikuChallenge, #MitsubishiElectric, and #7ElevenMY to be in the running to win. By submitting more cool entries, the higher the chances to bring home even cooler prizes!
The most creative submission winner will bring home prizes worth a total of more than RM25,000 consisting of a Mitsubishi LX Grande Fridge 630L worth RM5,959; three units of Mitsubishi Kirigamine Air Conditioner 1.5HP worth RM4,559 each; and one Apple iPhone X (64GB) worth RM5,457. There would also be 7 special prize winners that will take home one Mitsubishi LX Grande Fridge 630L respectively while 20 consolation prize winners will each bring home a Mitsubishi Electric Living Fan (LV 16 GU) worth RM263.
"Our loyal customers are a priority and the reason we live up to our tagline, Always There For You," said Ronan Lee, Marketing General Manager of 7-Eleven Malaysia. "As an appreciation for their wholehearted support, we aspire to continue offering exciting promotions and campaigns to further enrich the shopping experience of our devoted customers."
 On the subject of The Slurpee Siku Challenge contest he commented, "It has always been interesting to view our fans' extent of creativity, especially in digital submission contests and we look forward to plenty of fun and zany entries. We initiated the campaign as a challenge for our fans to show us how they enjoy their most favourite frozen beverage, Slurpee in the most creative manner using only their elbows and what better way to taste sweet victory than with the Coolest Drink on Earth™ !."
Mitsubishi Electric Sales Malaysia Marketing Manager, Gordon Wong commented, "We are delighted with our partnership with the No.1 convenience store chain in the country as our innovative products incorporates the latest technological advances but with a competitive pricing and our association with Slurpee, The World's Coolest Drink™ is spot on as our products are all about keeping one cool."
For more information and contest terms & conditions, please visit www.7eleven.com.my or Facebook at 7ElevenMalaysia.