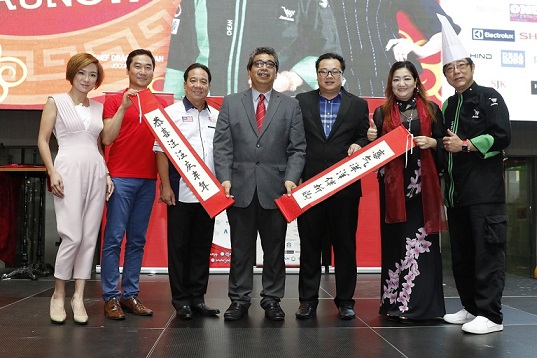 Online grocery saw more than 30% increase in its gross merchandising value (GMV) in 2017 as compared to 2016;
Launch of Cooking Up Prosperity cookshow cements partnership renewal between 11street and JOCOM (Just Order Conveniently On Mobile) to open up a plethora of grocery items for Chinese New Year;
JOCOM plans to expand its online grocery offerings and services on 11street nationwide by Q3 of 2018, including the east coast.
Kuala Lumpur, 4 January 2018 – Preparation work for Chinese New Year, especially the reunion dinner, is often extensive and time-consuming. As the festive celebration is around the corner, 11street – Malaysia's number two online marketplace – has reinforced its partnership with JOCOM to bring prepping and shopping for Chinese New Year grocery items to another level of convenience.
This partnership is off the back of 11street's grocery category emerging as one of the platform's continued focus in 2018, in which it saw more than 30% increase in its gross merchandising value (GMV) in 2017 as compared to 2016.
Bruce Lim, Vice President of Merchandising at 11street said: "More Malaysian consumers would start to explore shopping for groceries and other household items online. This holds true and as 2017 comes to an end, we expect this category to only flourish from hereon.
"This motivates us to strengthen our collaboration with JOCOM and become the e-commerce platform that offers great variety of fresh produce and other frozen goods as food preparation for Chinese New Year heightens. With our host of offering coupled with our established technological prowess, we aim to enable consumers to use our platform as the go-to channel to fulfil all their grocery needs, especially during the festive season."
Chef Quality Cooking, At Home
The partnership between 11street and JOCOM goes beyond opening an online channel for grocery shopping, for it also includes "Cooking Up Prosperity", a 10-episode cooking show that will be streamed online. Featuring Chef Cheah Kee Khiang, a prominent chef in Malaysia, and hosted by well-known host and TV personality, Wong Chui Ling, the show will feature simple-to-follow Chinese New Year recipes using fresh ingredients available on JOCOM's online store at 11street.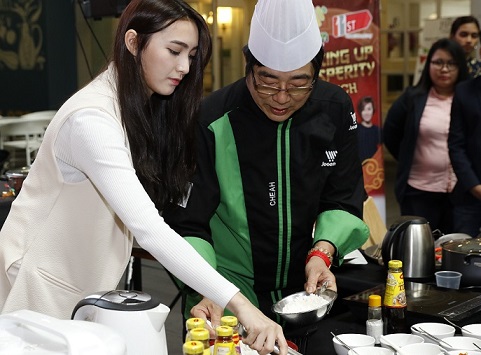 Image above: Chef Cheah Kee Khiang showing the crowd a snippet of 'Cooking Up Prosperity' in a live cooking demonstration using fresh ingredients available on JOCOM's online store at 11street. [From left] Jacqueline Tiang, first runner up of Miss Astro 2016, and Chef Cheah Kee Khiang.
Joshua Sew, Chief Executive Officer of JOCOM said: "When we first partnered with 11street last year, we wanted to expand our outreach to a wider community. More importantly, we hoped to empower Malaysians with the convenience of shopping for groceries and other household items online. As a way forward, we produced the cooking show to showcase that Chinese New Year preparation can be made simpler if they know where to get the ingredients and how to best prepare them, without the need to leave their homes."
Each episode of "Cooking Up Prosperity" will be streamed every Tuesday and Thursday, beginning today, and run for 10 minutes. Among the dishes featured are Golden Prosperity (Fried Prawn with Salted Egg Floss), Tremendous Opulence (CNY Cake with Taro & Sweet Potato), and Superior Smooth Porridge Seafood Steamboat, with each dish taking less than 10 minutes to cook.
The cooking show is sponsored by Clio, Desa Home, Electrolux, F&N, Khind, Kinohimitsu, Maggi, Onenot-enough, Philips, Sharp, SJK Electrical, Starbucks, Sublime and Trine Nexus.
2018 Roadmap with Nationwide Expansion
Moving forward, 11street is geared towards enhancing the variety of groceries to advocate the growing trend of grocery shopping for better consumer convenience. On that note, by working with 11street, JOCOM is planning to expand its online grocery business nationwide by Q3 of 2018, including to the east coast. Currently, 11street's online grocery services is available to consumers in Klang Valley, Johor and Penang.
"Following the growth of online grocery shopping, we hope the numbers especially the GMV and number of orders will double in the next two years. The possibilities are limitless, in which we believe that there are still many untapped avenues to grow the grocery segment on the 11street platform," Sew concluded.
In conjunction with the upcoming Chinese New Year celebration, 11street will be having promotions for more than 3,000 home appliances, grocery and household items, with up to 50% discounts and conditional free shipping.
On top of lower prices, shoppers can also enjoy additional savings by visiting the promotion page to download discount coupons worth up to RM20 until 4 March 2018.  For more information on the "Cooking Up Prosperity" promotion, please visit http://promotion.11street.my/2018/01/cooking-prosperity.
Malaysia Book of Records Recognition
To conclude the event, JOCOM was recognised by the Malaysia Book of Records (MBOR) as the First Grocery Mobile Commerce App in the country. The award was presented by Tan Sri Danny Ooi, Founder of the Malaysia Book of Records and witnessed by YB Datuk Wira Dr Abu Bakar Mohamad Diah; Deputy Minister of Science, Technology and Innovation (MOSTI).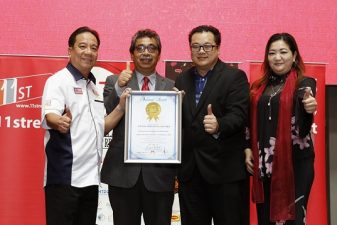 The four-month evaluation process concluded with JOCOM leading the way in its product innovation and leadership – a nod above other local and foreign grocery app providers and competitors, including more established hypermarket. JOCOM was further lauded as the first Malaysian establishment to have won an award under the category.
About 11street (www.11street.my)
11street is a trustworthy and convenient online marketplace that offers a great variety of products at competitive prices. It strives to revolutionise today's consumers' online shopping experience by making it more personalised and engaging. 11street has a diverse selection of product categories which are tagged on Fashion, Electronics, Groceries, Health & Beauty, Kids & Baby, Leisure & Sports, Home & Living, and Books & Services including deal offerings like E-vouchers. 11street is also an optimised marketplace where its merchandising ecosystem, education and training programs can fully support sellers regardless of the size of their businesses. Established in Korea since 2008, 11street is now one of the top global e-commerce marketplace providers with 400,000 sellers serving over 30 million consumers worldwide. 11street also has a presence in Turkey and Thailand, known as n11 and 11street respectively. For more information, please visit http://www.11street.my.
About JOCOM (http://www.jocom.my/)
JOCOM is M-Commerce platform specialized in online groceries and shopping. JOCOM revolutionized the way you buy groceries and shopping online via your smart phone. The tagline, 'Just Order Conveniently On Mobile', was formed to specifically highlight their mission; it provides a total integrated solution that protects both the consumers and the vendors. JOCOM wants to give a new convenient way to assist traditional business by providing the platform of latest technology connecting rural farmers, traders and vendors with affluent consumers via e-commerce via their app.