In line with the sugar-reduction theme, Pepsi-Cola (Thai) Trading Co., Ltd. has unveiled the Asian-inspired Lipton Mango and Pandan Flavoured Green Tea Drink in February 2018, according to the press release. The drink contains 45% less sugar and comes with the Healthier Choice logo. The sugar content is less than 6g per 100ml. It comes in two sizes: 300 ml at THB 12 baht (USD 0.38) and 445 ml at THB 18.
Tuangporn Siriwatwitoon, Pepsi-Cola (Thai) group product manager Lipton Ice Tea, said despite the 8.5% decline of the RTD tea market in Thailand to THB 13.7 billion in 2017, Lipton Ice Tea was the only major player achieving a 40% growth in sales, reported the Nation.
The success is attributed to the launch of the Lipton Food Buddy campaign, proactive channel expansion and pack-price strategy.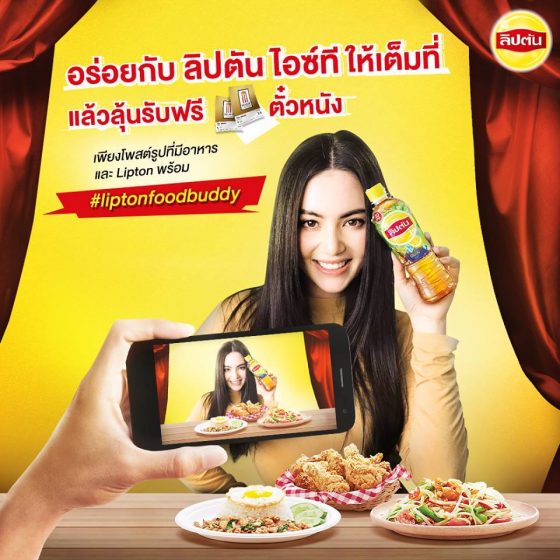 Competitive landscape
Lipton is still a relatively small player in the Thai RTD market but is gaining share. According to Ichitan's nine-month 2017 presentation citing Nielsen, Oishi had the biggest brand share at 39.2%, followed by Ichitan 23.1%, YenYen (Ichitan) at 10.7%, Jubjai (Oishi) at 5.1% and others at 21.9%. Within one year, Oishi and Others (including Lipton) have wrested away market share from Ichitan.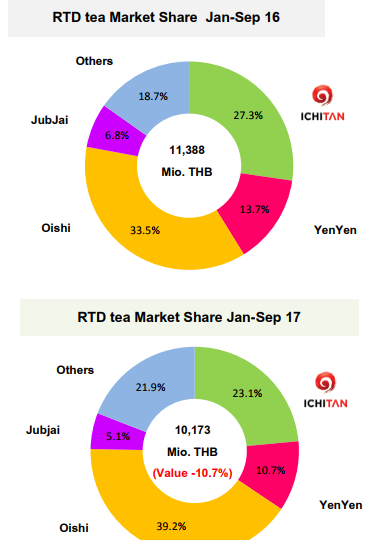 To be launched in other markets
Thailand is the first market for Lipton Mango and Pandan Flavoured Green Tea Drink. The drink will be launched in other markets including Malaysia. The drink has already been certified halal by the Malaysian halal certifying body JAKIM.