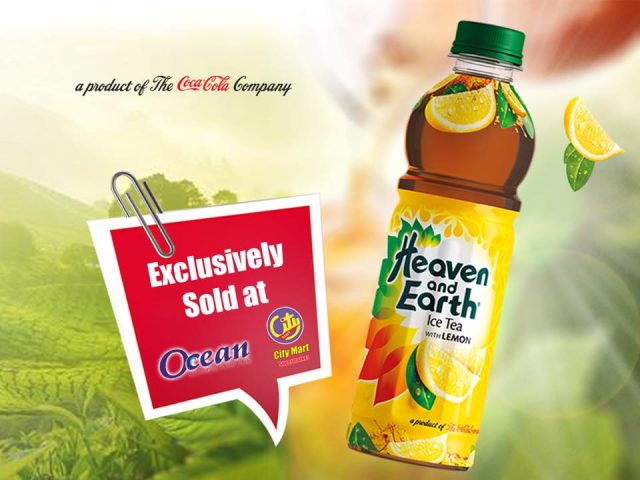 Heaven and Earth, the RTD tea brand of Coca-Cola in Singapore and Malaysia, is now in Myanmar. Launched in November 2017, the range comprises Ice Tea with Lemon, Green Tea with Honey and Herbal Drink. The packaging size is 350ml in PET bottle.
Here is the TVC:
Heaven and Earth is available at City Mart, Ocean and selected small vendors equipped with the Coca-Cola chiller.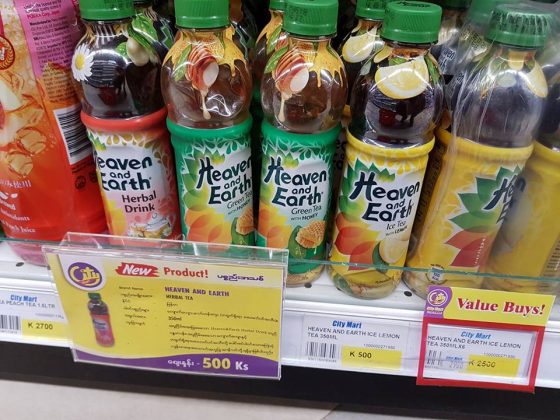 Convenience stores not carrying Heaven and Earth
Based on a random survey of a few convenience stores in Yangon, Heaven and Earth RTD tea was relatively absence from the leading convenience chains in the city.
However, the outdoor advertisement of Heaven and Earth RTD tea could already be widely seen in quite a number of smaller vendors.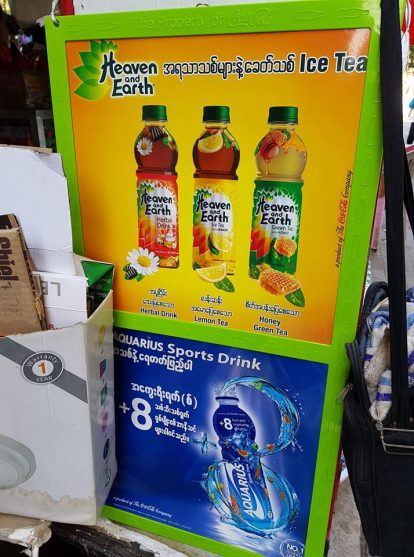 Two Oishi RTD tea (Green Tea Original and Green Tea Genmai) and one herbal tea from Jia Duo Bao were available in the City Express convenience store, while the Oishi RTD tea, VeVe Gold Green Tea and Lemon Iced Tea and Zeno Lemon Black Tea were found in a "Grab & Go" or "G & G," a convenience store chain operated by Capital Diamond Star Group. Itoen was spotted at 1 Stop Mart.
The sum up, the key players in the RTD tea markets in Myanmar are Oishi, VeVe Beverages, Zeno and now Coca-Cola (Heaven and Earth). The price per bottle is between MMK 450 (USD 0.34) to MMK 500. There are also a few other brands with a presence in the market including Indonesia's Sinar Sosro (Fruit Tree), F&N and Yeo's.
The taste profile is sweet and the packaging sizes for the PET bottles are 350ml – VeVe Gold, Heaven and Earth and 380ml – Zeno and Oishi. So far, there are no family pack and can format for RTD tea. The popular flavours are green tea and ice lemon tea.
Thai RTD tea marker Ichitan did mention it plans to begin marketing activities in Myanmar in August 2017 as reported by The Nation but Ichitan products have yet to be spotted in Yangon.