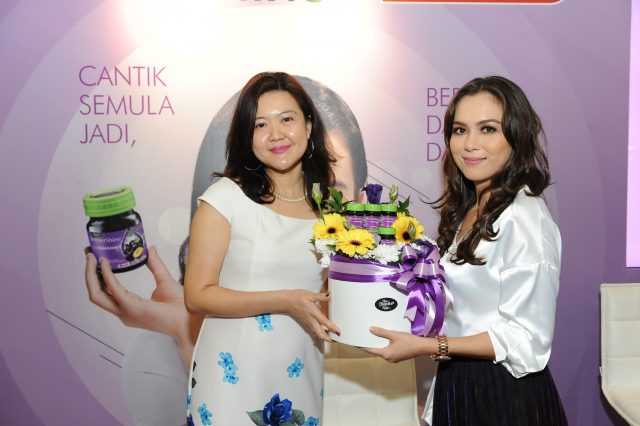 We spoke to Kuang Ming Ming, General Manager of BRAND'S Suntory Malaysia, on the sideline of the appointment of the Malaysian actress Siti Saleha as the new brand ambassador for BRAND'S InnerShine Prune Essence with Vitamin E. We asked her about BRAND'S Suntory products and their brand positioning in Malaysia.
According to Kuang, the flagship BRAND'S Essense of Chicken comes under the health segment and consumers drink it for health reason. The BRAND'S InnerShine range, meanwhile, falls under the beauty segment. The philosophy of InnerShine is beauty from within rather than external, natural goodness and is 100% plant-based without the addition of chemicals.
InnerShine is growing at a double-digit rate and the trend is still continuing, said Kuang.

For products targeting the mind, BRAND'S Suntory Malaysia has BRAND'S Essense of Chicken and Ca'ya. She explained Ca'ya Habbatus Sauda and Ginseng not only gives you energy but also ginseng also gives you the mental alertness.
Ca'ya Habbatus Sauda and Ginseng, first launched in 2016, is a product that focuses on the health aspect and is a non-essence of chicken-based drink, according to Kuang. She explained "Ca'ya is a ginseng drink product that is anchored towards people that perhaps would choose to go for non-animal based products." Kuang added Ca'ya is "gaining traction among the Chinese and Malays" but revealed Malay is still the biggest consumer. For consumers in Malaysia, Kuang alluded "BRAND'S has a certain credibility and is very big in ginseng not in Malaysia but in Taiwan."
The company does have Malay and Indian consumers for BRAND'S Essense of Chicken but the majority of the consumers are still Chinese and Kuang attributed this to the "Chinese tradition and culture" of drinking essence of chicken.