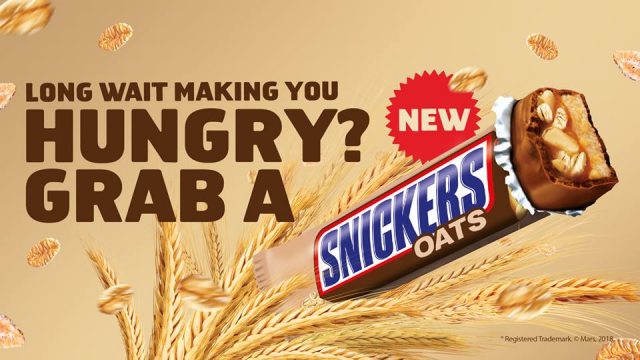 Snickers is back with a new and healthier way to kill your hunger with Snickers Oats. Launched in early 2018 in the Malaysia and the Philippines, Snickers Oats contains oats, rich chocolatey, caramel and nutty taste.
Survive the long wait
"Snicker Oats will be able to help those who often find themselves spending a lot of time waiting on a day-to-day basis to survive these long waits as a quick snack to chew on before their next meals," said Yee Pek Kuan, Category Business Unit Director of Mars Developing Asia. This comes as "Malaysians spend approximately an average of one hour even on just commuting, there are a lot of valuable time lost aside from affecting one's emotions," added Yee.
From now till 1 April 2018, Snickers Oats is also giving away prizes worth up to RM 10,000 via its 'Snickers Oats Longest Hunger Story' online contest.
The themes are:
Week 1: Longest Commute Hunger Story
Week 2: Longest Drive Hunger Story
Week 3: Longest Work Day Hunger Story
Week #1: Longest Commute #SnickersOatsHungerStoryMY

Share how munching on a Snickers® Oats gets you through that dreaded long commute!Step 1: Follow our theme of the week: Longest Commute Hunger StoryStep 2: Make sure your post is publicStep 3: Show us what happens before and after you eat a Snickers® OatsStep 4: Post it on either FB Live or IG videoStep 5: Use the hashtag #SnickersOatsHungerStoryMY1x Grand prize winner will win a Touch 'n Go card worth RM1,500, Snickers® Oats Disorganizer Planner and Snickers® Oats Products.10x Consolation winners will also get to take home Snickers® Oats Disorganizer Planner and Snickers® Oats products.Join now!Promo runs from March 5, 2018 to April 1, 2018.See more details: www.facebook.com/notes/snickers-malaysia/snickers-oats-longest-hunger-story-promo/1555990534468709/

Posted by Snickers Malaysia on 5hb Mac 2018
The longest drive and and longest commute will resonate well with Malaysian and Philippine consumers who spend hours on the road commuting to work each day.