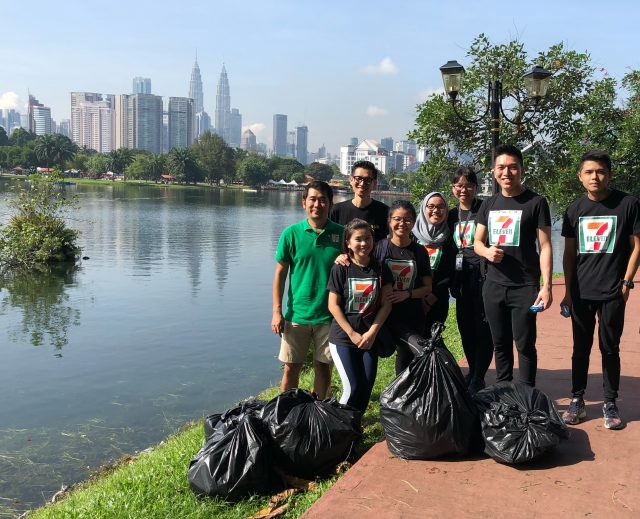 Kuala Lumpur, 21 April 2018 – In support of preserving our environment, 7-Eleven Malaysia and NGOHub Asia recently organized a public cleanup at Titiwangsa Lake Gardens to create awareness on the importance of keeping public spaces clean. The initiative is also dedicated to celebrate the upcoming Earth Day event on 22 April.
The Titiwangsa Lake Gardens is a recreational park for the public. With several big lakes in the middle of the park, it also provides facilities such as jogging tracks, canoeing, horse riding facility and other outdoor activities. There are also food and beverage sold around the edge of the lake for visitors to buy while enjoying the scenic view of the KL city skyline.
Volunteers from 7-Eleven Malaysia and NGOHub Asia were divided into groups and carried large plastic bags to pick up litter in several areas within the park, such as the children's playground, food kiosks, restaurants; picnic tables and benches, along jogging and walking paths as well as the edges of the lake.
Among the rubbish collected were Styrofoam cartons, empty box drinks, food wrappers, plastic and glass containers, and other miscellaneous junk, which were found thrown on the ground or into the lake. At the end of the activity, more than 18kg worth of trash was successfully removed from the park.
Ronan Lee, General Marketing Manager of 7-Eleven Malaysia said, "No one likes having their home filled with clutter, and this applies to public spaces as well. It only takes a few simple steps to throw away unwanted items into the rubbish bin, and that makes a huge difference to the environment and to those around us."
"Not only are we presenting a good example of being a responsible citizen, we are also teaching our children to embrace positive habits as children tend to follow their parents' footsteps. We at 7-Eleven Malaysia care about protecting our environment, and we hope that our efforts of the public cleanup at Titiwangsa Lake Gardens would inspire others to take better care of our public spaces and keep them clean."
About 7-Eleven Malaysia
7-Eleven Malaysia Holdings Berhad through its subsidiary 7-Eleven Malaysia Sdn. Bhd. is the owner and operator of 7-Eleven stores in Malaysia. Incorporated on 4 June 1984, 7-Eleven Malaysia has made its mark in the retailing scene and has been a prominent icon for over 33 years. 7-Eleven Malaysia is the pioneer and largest 24-hours standalone convenience store operator in Malaysia with over 2,200 outlets nationwide and serves more than 900,000 customers daily. 7-Eleven stores can be found across bustling commercial districts to serene suburban residential compounds throughout Malaysia, from petrol stations and LRT stations to shopping malls and medical institutions. 7-Eleven is Always There For You.