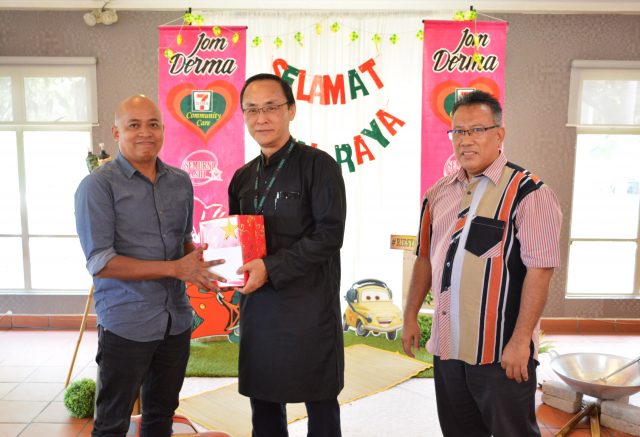 Kuala Lumpur, 4 July 2018 – 7-Eleven Malaysia, the nation's largest stand-alone convenience store chain engaged with customers to aid underprivileged communities through its Community Care Program – Semurni Kasih, which ran from 8th May to 18th June 2018. Customers were encouraged to donate necessities purchased from 7-Eleven outlets by placing them into contribution boxes located in more than 2,241 stores nationwide.
The campaign concluded with a staggering RM3,112,782.65 worth of provisions deriving of food and non-food products such as biscuits, canned goods, laundry detergent, toiletries and many others. The contributions were disbursed to recipients from various charity organizations and causes across the nation. Since its inception in 2008, the annual charity programme has given out more than RM14 million worth of supplies to more than 1,800 beneficiaries.
As the campaign ended, various Raya celebrations were organized by 7-Eleven staff nationwide to celebrate Hari Raya with their respective charitable organizations. These 'open house' events were also an opportunity for the 7-Eleven teams to officially handover a token of appreciation to the organizations and commemorate a successful partnership during the campaign period. One such celebration was held in Kelab Komuniti Taman Tasik, Cyberjaya and attended by representatives from 7-Eleven Malaysia and Semurni Kasih recipients such as Pusat Jagaan Baitus Sakinah Wal Mahabbah.
Mr. Ronan Lee, Marketing General Manager of 7-Eleven Malaysia said, "Once again, we are sincerely grateful for our customers' strong and encouraging support for this year's Semurni Kasih. This marks the tenth year of our endeavour for helping the less fortunate, and we are amazed with the results that we've yielded for this program together with our loyal patrons. This encourages us to scale greater heights in improving the life quality of the underprivileged community who needs us, as it has always been our mission and belief in giving back to the community." He added, "We definitely look forward to blazing the trail in making next year's Semurni Kasih even better, and we hope that our customers will continue to join us in this rewarding journey."
Semurni Kasih is part of 7-Eleven Malaysia's Community Care, a non-profit entity set up to implement corporate responsibility and philanthropic initiatives in support of underprivileged groups and sustains environmental conservation efforts.
For more information on Semurni Kasih and 7-Eleven Community Care, please visit www.7eleven.com.my or follow 7ElevenMalaysia on Facebook, Instagram and Twitter.
About 7-Eleven Malaysia
7-Eleven Malaysia Holdings Berhad through its subsidiary 7-Eleven Malaysia Sdn. Bhd. is the owner and operator of 7-Eleven stores in Malaysia. Incorporated on 4 June 1984, 7-Eleven Malaysia has made its mark in the retailing scene and has been a prominent icon for over 33 years. 7-Eleven Malaysia is the pioneer and largest 24-hours standalone convenience store operator in Malaysia with over 2,241 outlets nationwide and serves more than 900,000 customers daily. 7-Eleven stores can be found across bustling commercial districts to serene suburban residential compounds throughout Malaysia, from petrol stations and LRT stations to shopping malls and medical institutions. 7-Eleven is Always There For You.