Coca-Cola in Thailand has announced Fuze Tea peach flavoured and passion fruit flavoured RTD tea with chia seeds. The 350ml RTD tea contains vitamin C and antioxidants.
The sugar content in the peached flavoured drink is 29g per 350ml serving, while the passion fruit flavoured drink has a Healthier Choice Logo with a sugar content of 16g per 350ml serving. The selling price is THB 20 per 350ml bottle at 7-Eleven Thailand.
Chia seed is a good source of omega-3 fatty acids, fibre, antioxidants and iron and offers texture to the RTD tea. It tackles the ill effects of pollution, heat and dusty smoke during commute, which makes the skin to become less radiant. Fuze Tea helps to bring back the skin's radiance and is aimed at women aged 20 to 29.
Similar products launched in Vietnam in 2017
At the end of 2017, Coca-Cola Viet Nam introduced the same Fuze Tea+ but with a stronger antioxidant and TPP-C (tea polyphenols and vitamin C) shout out on pack. The Thai version only mentions vitamin C and antioxidant.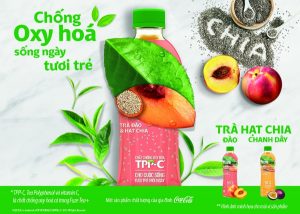 The TVC in Vietnam shows how Fuze Tea+ can help combat the ill effect of urban pollution, a relevant theme in beauty and is increasingly finding its way into food and drinks.