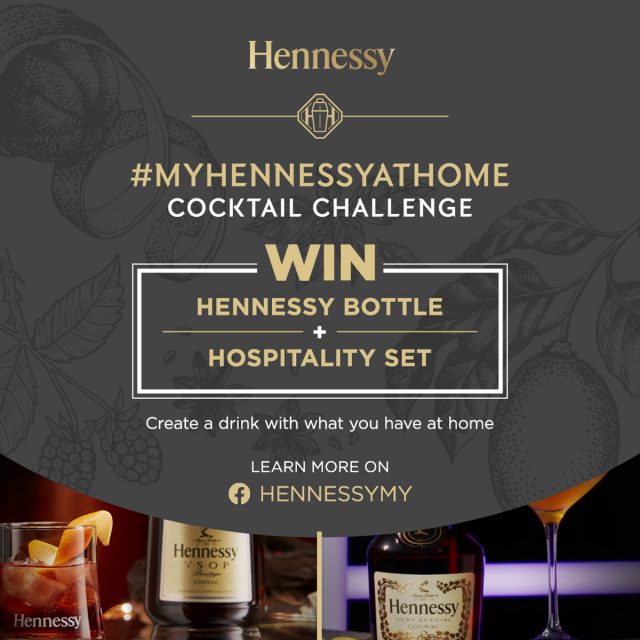 KUALA LUMPUR, 1st May 2020 – Staying home does not have to be drag. In fact, it's the perfect time to put your mixology skills to the ultimate test and flaunt your creative prowess with your favourite spirits.
"#MYHennessyAtHome Cocktail Challenge presents a wonderful opportunity for anyone to create a cocktail with Hennessy V.S or V.S.O.P Privilège using common ingredients found at home in the most creative way. They could opt to use a favourite fruit, for instance, or add a local ingredient to put a Malaysian spin to the concoction," said Thomas Bouleuc, Managing Director of Moët Hennessy Diageo (MHD) Malaysia.
"Through this unique experience, we hope participants will discover and savour the best of Hennessy through a variety of homemade cocktail creations all from the comfort of their own homes".
Participants only need to post a picture of their creation on Instagram anytime from 2 May to 6 May 2020 with the recipe and include the hashtag: #MYHennessyAtHome within the caption. Fifty winners will be chosen from among participants who received the most number of likes on their Instagram posts while meeting other criteria in the terms and conditions.
Once the MCO is lifted, the winner will receive one bottle of Hennessy V.S or Hennessy V.S.O.P Privilège, as well as an exclusive hospitality package at any one of Hennessy's 16 selected partner outlets of their choice in the Central region, Johor and Kota Kinabalu. The winners and their friends will be feted to this experience, courtesy of Hennessy.
The contest will commence immediately after the Hennessy Declassified Live Masterclass on 2 May 2020 at 9pm (Malaysian time), featuring Antonio Lai, founder of Quinary, Hong Kong's multi-sensory cocktail bar; and Shelley Tai, the outlet's acclaimed bartender. For inspiration, participants can tune into the Masterclass and learn the basics from these experts.
Lai's Quinary was named amongst Asia's 50 Best Bars three years in a row and is a pioneer in comprehensive Multisensory Mixology (MM) concept in Hong Kong. He and Tai are known for their creations of Hennessy cocktails for V.S.O.P Sunset 2019. Tai also won the 2019 Diageo World Class HK & Macau Bartender of the Year title. Prior to that, Lai also achieved significant acclaim at V.S.O.P x The Drunken Pot 2015.
More information about #MYHennessyAtHome Cocktail Challenge and the Hennessy Declassified Live Masterclass can be found on Hennessy Malaysia's Facebook page: https://www.facebook.com/HennessyMalaysia.