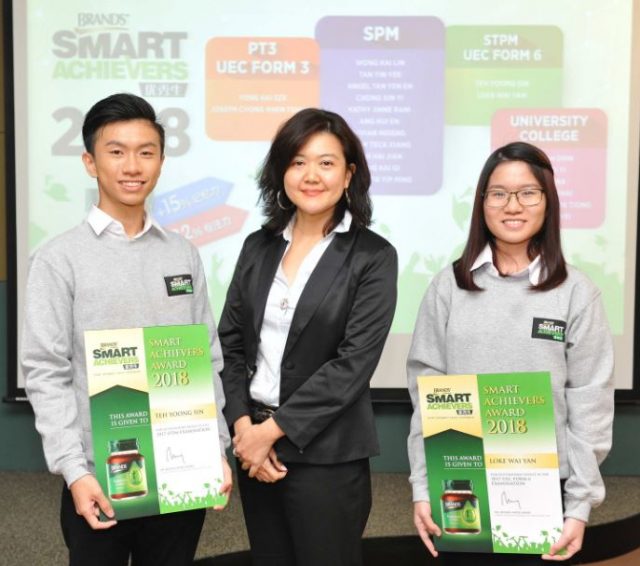 24 August 2018
Getting the right nutrition is an essential factor for reaching optimal performance to achieve greatness in one's studies and extra-curricular activities as it keeps the mind and body primed for improved productivity, something many of us often neglect because of hectic schedules during the schooling years.
"Getting the right nourishment ensures that you have the mental focus and concentration for improved productivity, helps you cope with stress better, and gives your body the energy to carry you through the day's activities from early morning to late night," said Yau Chin Chin, Senior Manager, Scientific Research & Application, BRAND'S® Suntory Asia.
Speaking to parents and students at the BRAND'S® SMART Achievers Award prize-giving ceremony, she shared the science behind the popular BRAND'S® Essence of Chicken and explained how it reduces physical tiredness, improves mental concentration and maintains emotional wellbeing.
The only chicken essence in the market backed by over 44 international scientific papers and clinical studies, results have shown that regular consumption of BRAND'S® Essence Of Chicken improves memory by up to 15% and enhances concentration by 22%, while metabolism can be increased by up to 16%.
Yau explained, "Increased blood circulation and oxygen flow to the brain and body will keep mental and physical fatigue away, while reducing anxiety and stress hormone, cortisol, so that the ability to stay alert or focus is not affected."
This helps students to able to stay sharp and concentrate better during classes and revisions while the improved blood circulation and metabolism help maintain their energy level for their activities throughout the day.
Corroborating the findings are at least 21 students, who excelled at their final examinations last year and were handpicked to receive the annual BRAND'S® SMART Achievers Award.
Ranging from secondary to tertiary level education, they were selected from hundreds of entries to emerge as the best of the best to receive the much-coveted recognition that only recognizes top achievers who excelled in both their academic and extra-curricular performance.
Travelling from eight states from as far as Sabah, Sarawak, Johor, Penang, Pahang and Perak, the proud students and even prouder parents attended the special awards ceremony held in their honour where they received cash and product hampers as part of their rewards.
The BRAND'S® SMART Achievers Award has 4 categories with respective cash prize awards – PT3/UEC Form 3 (RM500), SPM (RM1,000), STPM/UEC Form 6/ pre-university (RM1,500) and university/college exams (RM2,000).
The programme aims to encourage and enable the young generation to achieve their full potential and go on to become leaders of tomorrow and has awarded almost 280 elite students since its inception in 2006.
"BRAND'S® has been awarding top performing students with cash prizes as well as due recognition among their peers as they join the elite group of BRAND'S® SMART Achievers. This award is to honour them as it goes beyond academic results as it also requires outstanding performance in their co-curricular activities for entry into this prestigious club," said Kuang Ming Ming, General Manager of BRAND'S® Suntory Malaysia.
Registration for the popular annual Awards is now open till 31 December 2018 and students sitting for their major examinations this year can aim to be one of the BRAND'S® SMART Achievers next year.
Download the registration form from www.brandsworld.com.my or get them at selected Chinese medical halls and leading pharmacies, supermarkets and hypermarkets nationwide, where the nutritious BRAND'S® Essence of Chicken can also be purchased to help power up the mind and body as students start to prepare for their final examination.
Produced at the halal certified plant in Bukit Jelutong, BRAND'S® Essence of Chicken is a natural food supplement with no added salt and is cholesterol and fat free, suitable for daily consumption.