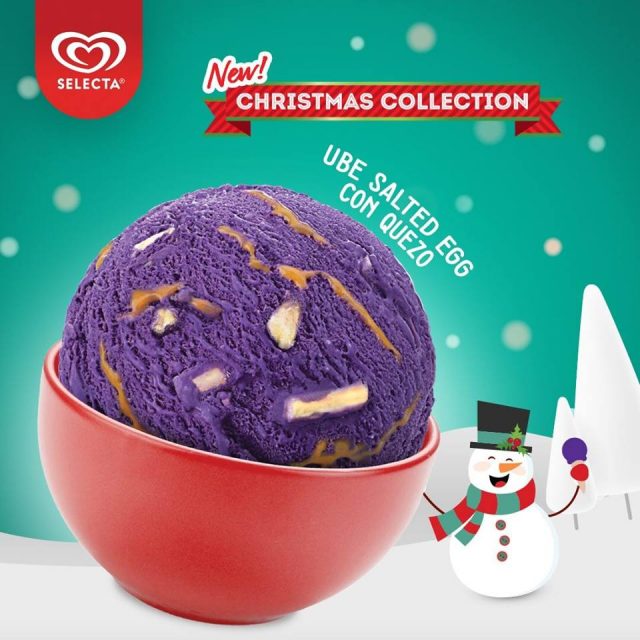 Selecta Philippines has unveiled three limited edition ice cream for this coming Christmas season.
Ube Salted Egg con Quezo – ube ice cream with yummy cheese bits and salted egg swirls
Choco Hazelnut Crinkles – fudgy crinkles with cashews and a hazelnut twist
Buco Pandan Espesyal – buco chunks and pandan jelly in creamy coconut ice cream!

Salted egg application in the ice cream category is not something new in the Philippines. At Mabuhay Palace, the restaurant of the Manila Hotel, Executive Chinese Sous Chef Josephine Yu Tanganco-Candelaria has created salted egg as one of her frozen treat creations, reported ABS-CBN News in 2011. The yellow-colored frozen treat contains low-fat milk and black sesame paste.
In addition to the frozen treat at Mabuhay Palace, Unilever Food Solutions has also created a recipe called Salted Egg Ice Cream with Dulce de Leche that makes use of its Knorr Golden Salted Egg Powder.
What is interesting with the Selecta launch is the brand, operated under a joint venture between Unilever and local RFM, has made salted egg ice cream easily available in the comfort of the home. Previously, one has to go to the food outlets to get a taste of the salted egg ice cream.
Ube Salted Egg con Quezo and the other two limited edition flavours are available at the Robinsons Selections store on Honestbee Philippine for a price of PHP 245 (USD 4.5) for a 1.3L tub.