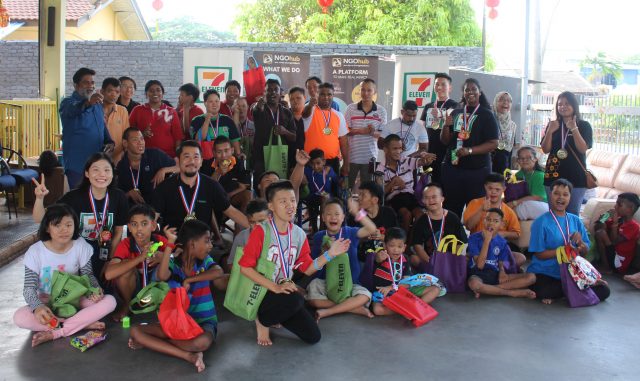 KLANG, 22 MARCH 2019 – To commemorate World Down Syndrome Day, which falls on 21 March every year, 7-Eleven Malaysia recently organized a tele-match at Persatuan Penjagaan Kanak-Kanak Cacat Klang (PPKKCK), Selangor with the help of NGOHub Asia.
PPKKCK was founded by chairman and founder, N. Morgun in 1991. With a brother who has special needs himself, Morgun was encouraged to work with and provide for children with special needs at a young age. Through humble beginnings and with his own savings 19 years ago, Morgun now has established a centre to house 84 multiracial special children diagnosed with Down syndrome, cerebral palsy, autism, muscular dystrophy, and many other disabilities. The centre is currently caring for these children with the assistance of physiotherapists and caretakers.
The tele-match consisted of various activities that would help with their motor skills, teach them self-grooming skills and encourage teamwork. In the spirit of 'Everyone is a Winner', each participant was awarded with a gold medal and goodie bag containing toys, snacks and beverage. The event ended with a delicious spread during tea time.
A thankful Morgun said, "Thank you to 7-Eleven Malaysia and NGOHub Asia for their efforts in bringing joy to the kids and raising awareness on children with special needs, be it Down syndrome or autism, amongst others. With this I hope that the public know that they are always welcomed to volunteer and organize activities for the kids to enhance and boost their morale."
7-Eleven Malaysia General Manager of Marketing, Ronan Lee expressed, "We are glad to have organized these games for the children as they seemed to have enjoyed it very much. It is a great opportunity for us as interact and get to know the children better. We wanted to make everyone feel like a winner, which is why we rewarded each participant with a medal and goodie bag. Seeing the smile etched out on their faces sure make our efforts worthwhile."
Every year, PPKKCK organizes a charity bazaar selling various pre-loved items, handicrafts, children's books, food, clothes and many more. Interested supporters may visit them on 1 May 2019 at 4, Kampung Raja Uda, Lorong Bunga Raya, 42000, Pelabuhan Klang, Selangor or contact 012-3915893.
About 7-Eleven Malaysia
7-Eleven Malaysia Holdings Berhad through its subsidiary 7-Eleven Malaysia Sdn. Bhd. is the owner and operator of 7-Eleven stores in Malaysia. Incorporated on 4 June 1984, 7-Eleven Malaysia has made its mark in the retailing scene and has been a prominent icon for over 35 years. 7-Eleven Malaysia is the pioneer and largest 24-hour standalone convenience store operator in Malaysia with over 2,290 outlets nationwide and serves more than 900,000 customers daily. 7-Eleven stores can be found across bustling commercial districts to serene suburban residential compounds throughout Malaysia, from petrol stations and LRT stations to shopping malls and medical institutions. 7-Eleven is Always There For You.