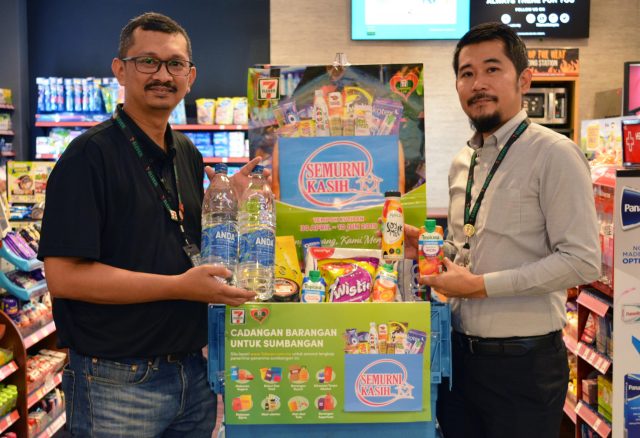 Kuala Lumpur, 3 May 2019 – 7-Eleven Malaysia, the nation's leading convenience chain store, carries on its goodwill of providing for the underprivileged community through its annual CSR charity programme this time of the year with Semurni Kasih through the Community Care program.
The donation drive will be held in the holy month of Ramadhan, running for 43 days from now until 10 June 2019. Customers are encouraged to contribute through the campaign by purchasing necessities and supplies from 7-Eleven stores nationwide and placing them into the collection box positioned in a prominent area of the store. Supplies could range from biscuits, instant food, groceries, medications, and other household essentials found in the store. The contributions will then be distributed by 7-Eleven to selected beneficiaries across the country.
Since its inception in 2008, Semurni Kasih has collected and disbursed almost RM15 million worth of provisions to close to 2,000 beneficiaries in Malaysia.
"We believe each contribution to Semurni Kasih, be it small or big, would make a positive impact towards the less fortunate community. From supporting local orphanages, nursing homes, and care centres, we are motivated to make this year's campaign a bigger one, and encourage the public's unwavering support and contribution to make this a successful initiative. With our network of 2,300 stores throughout Malaysia, doing good this Ramadhan is convenient and easy!" said Ronan Lee, Marketing General Manager of 7-Eleven Malaysia.
Semurni Kasih is part of 7-Eleven Malaysia's Community Care, a non-profit entity set up to implement corporate responsibility and philanthropic initiatives in support of underprivileged groups and sustains environmental conservation efforts.
For more information on Semurni Kasih and 7-Eleven Community Care, please visit www.7eleven.com.my or follow 7ElevenMalaysia on Facebook, Instagram and Twitter.
About 7-Eleven Malaysia
7-Eleven Malaysia Holdings Berhad through its subsidiary 7-Eleven Malaysia Sdn. Bhd. is the owner and operator of 7-Eleven stores in Malaysia. Incorporated on 4 June 1984, 7-Eleven Malaysia has made its mark in the retailing scene and has been a prominent icon for over 35 years. 7-Eleven Malaysia is the pioneer and largest 24-hours standalone convenience store operator in Malaysia with over 2,320 outlets nationwide and serves close to a million customers daily. 7-Eleven stores can be found across bustling commercial districts to serene suburban residential compounds throughout Malaysia, from petrol stations and LRT stations to shopping malls and medical institutions. 7-Eleven is Always There For You.