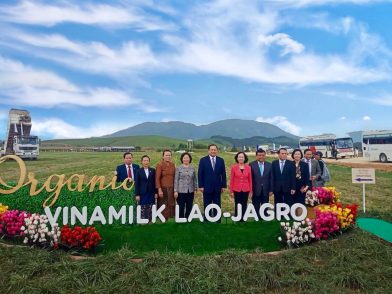 Vietnam Dairy Products (Vinamilk), the owner of Angkor Dairy Products in Laos, has commenced phase one construction of its organic dairy farm in the highland in Laos. The new farm is located in Xiangkhouang province of Laos in the Xiangkhouang Plateau, northeast of the country. The total investment is up to USD 500 million.
Vinamilk has a 51% stake in Lao–Jagro Development Xiengkhouang, which was formed with investments from Laos and Japan. The project will cover an area of 5,000 hectares with 24,000 cows. The long-term plan is to develop it into a dairy farm spanning 20,000 hectares and 100,000 cows.
The organic milk farm will provide adequate supply of raw material not just for the Vietnam market but also for Laos and potentially for neighbouring markets.