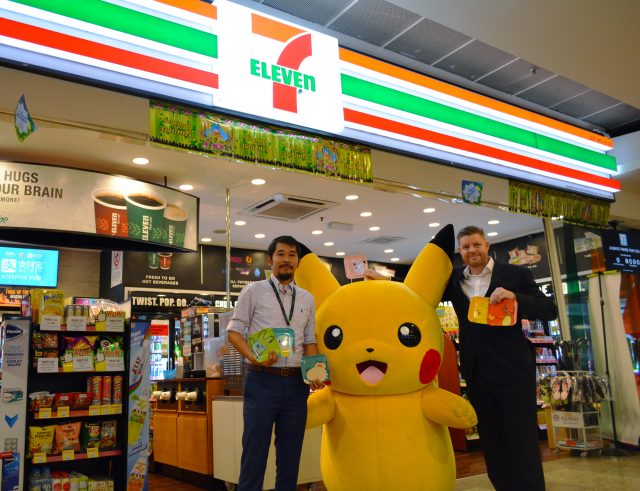 Kuala Lumpur, 2 July 2019 – Fans of Pokémon can rejoice as 7-Eleven Malaysia, the nation's largest convenience chain store launches yet another loyalty programme that features the popular Japanese franchise. The Pokémon Poké Plates collection comes in 28 vibrant designs, each featuring a popular Pokémon character such as Pikachu, the lovable Electric-type Pokémon, Snorlax, a gigantic sleepyhead, fiery Charmander, the ever lovable Jigglypuff and many others.
Customers are rewarded with program stickers from now until 26 August 2019 for every purchase of RM5 and above in a single receipt at any 7-Eleven Malaysia outlet. A bonus sticker will be rewarded if the purchase includes a selected partner product from brands like Cadbury and Tropicana. With a total of 12 stickers, a free Pokémon Poké Plate can be redeemed. Another option for customers is to purchase a Poké Plate at RM7.90 alongside 6 stickers. Adding excitement to the 'hunt' for all 28 plates is the inclusion of special Masterball Poké Plates with a unique PIN each. Lucky participants who managed to get their hands on these exclusive Poké Plates stand a chance to win RM200 worth of Razer Pay coupon.
Ronan Lee, Marketing General Manager of 7-Eleven Malaysia said, "We are absolutely ecstatic to be moving into the second half of the year with yet another exciting redemption campaign. With the franchise's successful movie Detective Pikachu a couple of months ago and the continuing Pokémon Go craze, we are confident that the fans will react positively towards the collectibles. Inserting the 'fun' in 'functional', the Pokémon Poke Plates will add a colourful spectrum to your dining experience at home."
7-Eleven Malaysia's latest product offerings include Salted Egg AiskleemTM, a creamy, golden salted egg yolk flavoured soft serve that will leave taste buds with a savoury and spicy sensation. The new cool treat is available in selected 7-Eleven Malaysia outlets. Its ever-expanding fresh food range – including Strawberry Swiss Roll and Crabstick Mayo & Egg Sandwich – pairs perfectly with the Poké Plates, as each tasty treat fit nicely on the square plates.
7-Eleven Malaysia is the number one convenience store chain in Malaysia, with 2,335 outlets across the country and counting. For more information on Pokémon Poké Plates, visit www.7eleven.com.my or follow 7ElevenMalaysia on Facebook, Instagram and Twitter.
About 7-Eleven Malaysia
7-Eleven Malaysia Holdings Berhad through its subsidiary 7-Eleven Malaysia Sdn. Bhd. is the owner and operator of 7-Eleven stores in Malaysia. Incorporated on 4 June 1984, 7-Eleven Malaysia has made its mark in the retailing scene and have been a prominent icon for over 35 years. 7-Eleven Malaysia is the pioneer and largest 24-hours standalone convenience store operator in Malaysia with over 2,330 outlets nationwide and serves close to 1 million customers daily. 7-Eleven stores can be found across bustling commercial districts to serene suburban residential compounds throughout Malaysia, from petrol stations and LRT stations to shopping malls and medical institutions. 7-Eleven is Always There For You.