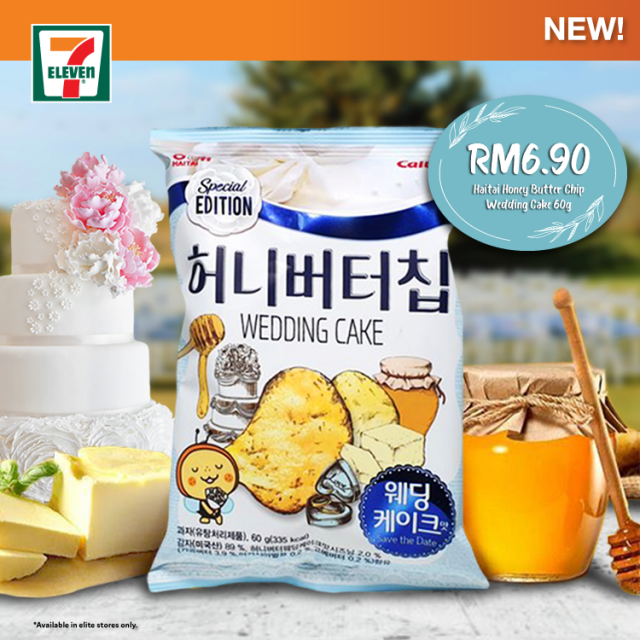 The limited edition Haitai Honey Butter Chip Wedding Cake Flavor is now available at 7-Eleven. The price is RM 6.50 per pack. Click here for the list of participating stores. Haitai is popularly known for its honey butter chip.
Chocolates
New chocolate products launched at 7-Eleven in May 2020 included Belgium's finest Godiva Masterpieces Chocolate in dark chocolate and milk chocolate flavours, Beryls Mini Camior in almond and pralines as well as Nestle Damak Chocolate and Nestle Damak Gece.
Ice cream
Consumers can try Walls Magnum Cherry Blossoms ice cream and Walls Lipton Teh Tarik Sandwich. The Walls Durian Mochi Ice Cream is back and is available nationwide.
Beverages
The immunity-boosting drink You.C1000 vitamin drinks come in orange, lemon and apple flavours. To beat the heat from this scorching hot weather, consumers can opt for the new Xiao Chun Chun herbal drink.
The exclusive BTS special packaged coffee with 14 designs is now available at 7-Eleven stores in Peninsular Malaysia. Each cup of coffee costs RM 11.90 and boasts a striking black and gold design. "BTS Special Package Cold Brew Americano 270ml" comes in a mysterious black cup whereas the "BTS Special Package Hot Brew Vanilla Latte 270ml" comes in a striking gold cup.
Snacks
Some of the selected imported snacks launched in May 2020 included the King's Deli potato crisps in sea salt and cheese flavours and Safari Potato Grills in cheese, salt and salt and vinegar flavours. Herr's Jalapeno Flavoured Cheese Curls, Baked Cheese Curls and Carolina Reaper, which is the hottest pepper around, are new additions to 7-Eleven.
Other releases included the Korean Yopokki Snack in hot & spicy and cheese flavours and the El Sabor Nacho Chips made from non-genetically modified corn from Greece. The tasty and healthy vegan snacks with Eat Real Snacks are free from all 14 declarable allergens. The range comprises Quinoa Chips, Hummus Chips, Cheezie Straws and Lentil Chips.
Biscuits
The new biscuits are Mamee Monster Thin Thin in three delicious flavours – spicy fried chicken, sour cream & onion and milk and the New Zealand-made Snax Crunches in cheese & onion and sour cream & chives flavours.