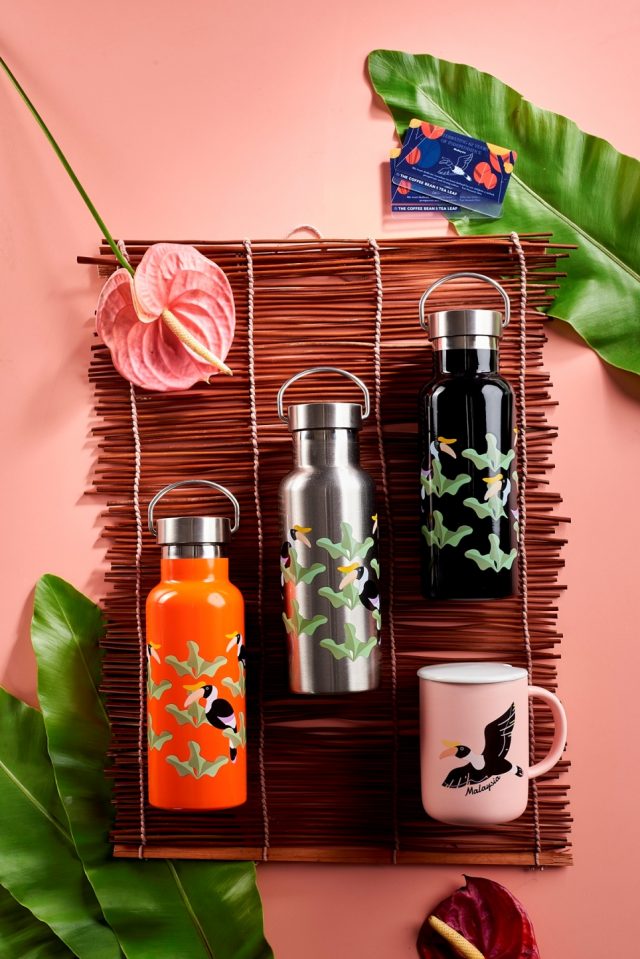 CB&TL will contribute towards habitat conservation for Malaysia's iconic bird with the Save Bill Campaign
Kuala Lumpur, 7 August 2019 – The Coffee Bean & Tea Leaf® Malaysia in support of Malaysian Nature Society (MNS) kicked off a three-month-long "Save Bill" fund-raising campaign in aid of the MNS Hornbill Conservation Programme. The collaborative effort combines educational materials, interactive games, activities and workshops as well as a donation collected from the sales of Hornbill-themed merchandise and CB&TL's Caring Cup Fund.
"Malaysia is home to many beautiful local species and environmental changes are affecting many of them. At The Coffee Bean & Tea Leaf® Malaysia, we try to do our part in supporting them by 'adopting' a different local animal every August, in conjunction with Malaysia's Independence Day. This year, in collaboration with the Malaysian Nature Society, our focus is on the Hornbill Conservation Programme, to support the Society's efforts in protecting their habitat," said Fiona Rodrigues, Director of Marketing & Development, The Coffee Bean & Tea Leaf® Malaysia.
There are 10 Hornbill species found in Malaysia and the species thrives in tropical rainforests. Sadly, several species are endangered due to habitat destruction.
"Malaysia's iconic birds, the Hornbills, are a symbol for the nation's rich diversity and an indicator of a healthy forest environment, of which Malaysia has long been known to have. Our Hornbill Conservation Programme is dedicated to preserving this unique species and our current focus is to protect the Belum-Temenggor area as an essential habitat for the Hornbill while ensuring the ecosystem – and all the other species it supports – continues to thrive," said Mr Balu Perumal, Head of Conservation of MNS.
From August to October, customers can support this campaign and help to "Save Bill" while CB&TL will contribute RM5 to MNS for:
Every purchase of a Malaysian Hornbill Mug (RM48) or Malaysian Hornbill Tumbler (RM88)
Every RM100 activation of the limited-edition Hornbill TCB card
Every RM100 TCB Card top-up into any TCB Card, only on Save Bill Day each month during the campaign (25th August, 25th September & 25th October 2019).
For the duration of the campaign, Hornbill conservation leaflets will be available at all outlets including information on how to further support MNS programmes. Ongoing updates on CB&TL's social media will highlight a different Hornbill species each week, with fun facts and a quiz.
Customers can also get involved in a series of hands-on activities such as an MNS-run Hornbill Conservation Workshop and participate in the MNS volunteer programme.
For more information about CB&TL's "Save Bill" Hornbill Conservation Campaign, latest offerings, news and promotions, follow the CB&TL Facebook page, www.facebook.com/CBTLMalaysiaPage or the CB&TL Instagram account @coffeebeanMY, or visit their website www.coffeebean.com.my.
About The Coffee Bean & Tea Leaf®
Born and brewed in Southern California since 1963, The Coffee Bean & Tea Leaf® is the oldest and largest privately-held specialty coffee and tea retailer in the United States. Embodying a passion for connecting loyal customers to one another with carefully handcrafted products, the company is known for sourcing and providing the finest ingredients and flavors from around the world. For over 50 years, The Coffee Bean & Tea Leaf® has demonstrated a passion for product innovation epitomized by The Original Ice Blended® drink. The company has grown to be an international icon and currently has over 1,100 stores in nearly 30 countries. Please visit www.coffeebean.com.my for more information.