In Indonesia and Vietnam, organic represents the next phase of upgrade for infant milk formula.
Arla Indofoods, the joint venture between Indonesia's PT Indofood CBP Sukses Makmur Tbk and Denmark's Arla Foods, has introduced for the first time Indonesia's first organic growing up milk. Puregrow Organic is high in protein, calcium, iron, vitamin A, C and D. Other ingredients include omega 3 and 6, FOS, GOS and dietary fibre with no added sugar. Puregrow Organic is designed for children aged 1 to 3.
The new organic growing up milk is certified halal by the local Indonesian body MUI and has received the organic logo from Organik Indonesia and the EU organic logo. Puregrow Organic is produced in Denmark by Arla Foods Amba Arinco and imported by PT Arla Indofood Makmur Dairy Import.
Puregrow Oganic is available in plain flavour in the two sizes – 360ml and 720ml.
Vinamilk Organic Gold
Vietnam's largest dairy company Vinamilk launched in May 2019 the new Organic Gold, which is the first locally manufactured baby formula product with European Organic certification. According to the company, Organic Gold allows consumers to trace from the ingredient origin to production transparently using Blockchain technology. The milk powder is for one year and above.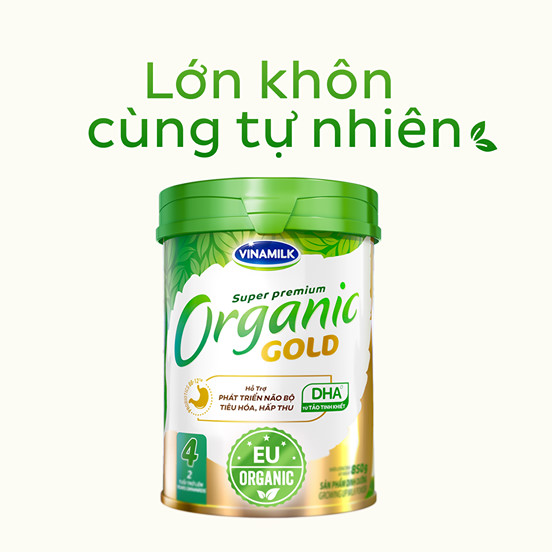 Vinamilk Organic Gold contains probiotics BB-12 from Chr. Hansen and DHA from algae to support brain development and digestion. The other ingredients are ARA, omega 3, omega 6 and cholin, zinc and selenium.
Vinamilk Organic Gold is available in step 1 to 4 for babies aged 0 months to those above the age of 2. The milk powder materials are imported from New Zealand and Europe. The pack sizes are 350g and 850g.