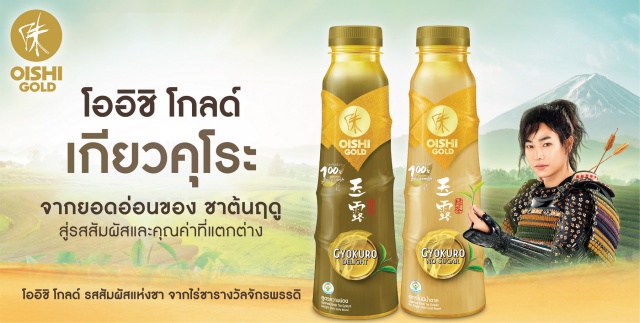 To tap further opportunities in the premium RTD tea segment, Oishi Group has added two more variants under its Oishi Gold series in Thailand. The new Oishi Gold Gyokuro is said to be the ultimate premium Japanese tea as it uses young shoots of the first harvesting season of the year.
According to Wikipedia, Gyokuro is also known as jade dew and is a type of shaded green tea. The tea leaves are grown under the shade with straw mat rather than the full sun for over 3 weeks. This causes both the amino acid theanine and the alkaloid caffeine in the tea leaves to increase, which yields a sweet flavour. The tea also gains a distinct aroma from the covering process.
Oishi Gold Gyokuro features local Thai celebrity Palitchoke Ayanaputra or Peck in Samurai uniform to communicate the historical richness of the tea. For Oishi Gold Gyokuro, Oishi uses 100% imported tea leaves from Masudaen in Omaezaki, Shizuoka Prefecture. Masudaen has been making green tea since 1870.
Oishi Gold Gyokuro is available in 400ml PET at THB 30 per bottle. It comes in two variants sugar free and Delight (low sugar).