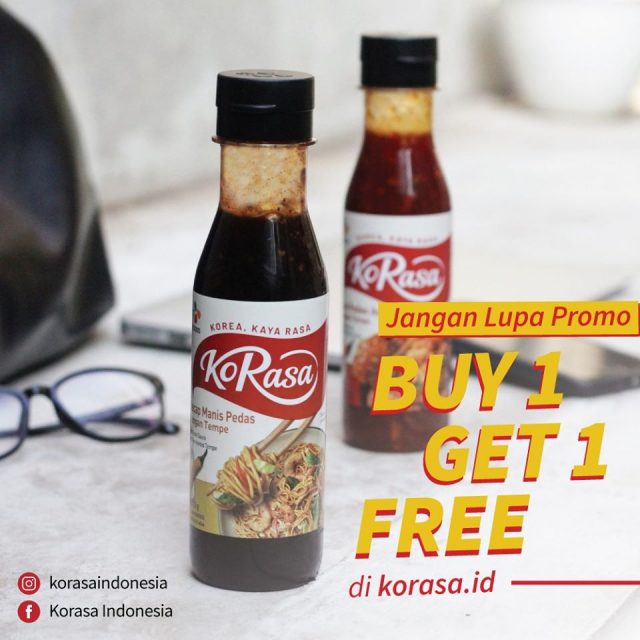 In a bid to localise its Korean sauces for the Indonesian market, South Korea's CJ Foods introduced for the first time KoRasa sauce made from the double fermentation of tempe at the end of 2019. KoRasa (Korea, Kaya Rasa) or "rich Korean taste" is available in Kecap Manis Pedas (Spicy Sweet Soy Sauce) and Saus Pedas Asli (Original Spicy Sauce).

KoRasa is positioned as a Korean sauce but one that is heavily localised (eg spicy sweet soy sauce) and has the nutrient from the double fermentation of tempe, a traditional Indonesian soy product high in protein and iron. Consumers can use KoRasa for their normal Indonesian dishes as well as using it to cook Korean dishes like Ayam Crispy Pedas Madu (Spicy Crispy Korean Chicken with Honey).
Korean fried chicken or Dakgangjeong (닭강정) is trending in Indonesia, Malaysia and in several other Southeast Asian countries. Dakgangjeong is a deep-fried crispy chicken dish glazed in a sticky, sweet, and spicy sauce. Dakgangjeong is traditionally cooked with gochujang (red chili paste) but in the KoRasa recipe, gochujang can be substituted with KoRasa Original Spicy Sauce. Not all of the gochujang sauces sold in Southeast Asia are halal.
According to KoRasa, the ingredients needed to make Spicy Crispy Korean Chicken with Honey are:
300g of chicken fillet
250g of wheat flour
1 egg
4 garlic
1 spoonful of honey
3 spoonful of KoRasa Original Spicy Sauce
1/5 teaspoon of pepper
CJ Foods' KoRasa is quite similar to the Adabi Sos Korea (Korean Sauce) in Malaysia, which is a multi-purpose Korean sauce for Korean dishes especially for Korean fried chicken sauce.
The new KoRasa shows the ingenuity of Korean sauce manufacturers in localising their sauce for the local Indonesian market.