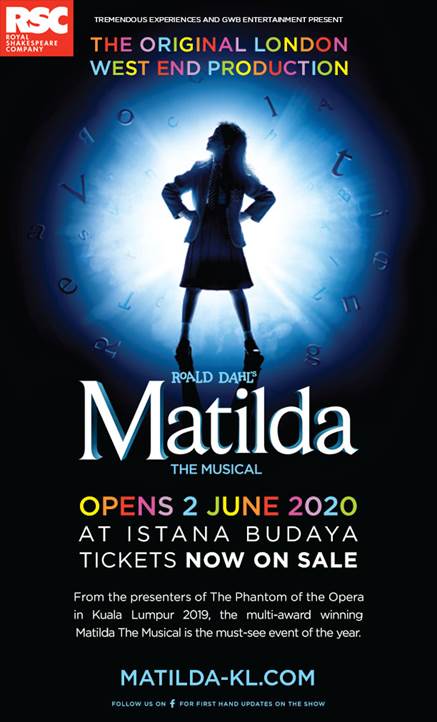 'Easily the Standout Musical of the Decade' – Sunday Times, UK
[KUALA LUMPUR, FEBRUARY 5, 2020]: Acclaimed as 'the standout musical of the decade' by the UK's Sunday Times, the multi award-winning Matilda The Musical will make its debut in Kuala Lumpur from 2 June 2020 at the Istana Budaya.
Inspired by the beloved book by the incomparable Roald Dahl, Matilda The Musical has taken both London's West End and Broadway by storm, garnering five-star reviews across the board. Winner of over 85 international awards, including 16 for Best Musical, Matilda The Musical is now in its ninth year in London where it continues to delight audiences of all ages, and has been seen by more than 8 million people.
The Kuala Lumpur season of Matilda The Musical is the fourth leg of the original London West End musical's Asian tour after stops in Singapore, China and Bangkok. It comes direct from seasons in Johannesburg and Cape Town, as part of an international tour.
Matilda The Musical was commissioned by the Royal Shakespeare Company and played to sold-out audiences at the RSC's The Courtyard Theatre in Stratford-upon-Avon in England for 12 weeks from November 2010 to January 2011. It transferred to the West End later that year and swept the board at the 2012 Olivier Awards, winning a record-breaking seven awards. As well as winning the award for Best New Musical, the four young actresses who originated and shared the title role made history by taking home the collective award for Best Actress in a Musical.
The New York production of Matilda The Musical, whichopened in 2013 at Broadway's Shubert Theatre to rapturous reviews, was awarded the accolade '#1 Show of the Year' from TIME Magazine, and won five Tony Awards®.
The musical follows Matilda, a precocious 5-year-old girl who loves reading and learning, but is suppressed by her TV-obsessed parents who pay her little attention. As she grows up, she begins to resist the challenges and obstacles presented to her, learning that sometimes you have to be a "little bit naughty" in order to get through life. As she begins to master living with her family, her world is thrown into disarray as she starts a new school under the tyrannous grip of headteacher Miss Trunchbull. Seeking solace in the library in a world of her imagination and creation, Matilda forms strong bonds with adults such as librarian Mrs Phelps and her class teacher Miss Honey. Together they give her the confidence to embrace her special gift and individuality which is needed to reclaim her life.
Featuring a smart and witty original score by Olivier Award winner Tim Minchin, alongside an exciting book by Tony Award®-winning playwright Dennis Kelly, and ingenious staging by Tony Award® winning director Matthew Warchus and Tony Award® winning choreographer Peter Darling, the musical adaptation is one of the most successful British musicals of modern times.
The production has sets and costumes by Tony Award® winner Rob Howell, with orchestrations, additional music and musical supervision by Christopher Nightingale, lighting by Tony Award® winner Hugh Vanstone, and sound by Simon Baker.
With an incredible cast of young performers, Matilda The Musical inspires and delights audiences both young and old. The timeless story of a small girl's determination to challenge those above her for the greater good, combined with Roald Dahl's signature wit and naughtiness, makes this an unforgettable musical.
'ONCE IN A BLUE MOON, A SHOW COMES OUT BLAZING AND RESTORES YOUR FAITH IN BROADWAY. MATILDA THE MUSICAL IS THAT SHOW' – New York Post
For detailed background information on the show and the characters please visit: www.matildathemusical.com
TICKETING AND SHOW INFORMATION
Season: From 2 June 2020
Performance time:
Tuesday to Friday: 8:30pm
Saturday: 2:00pm and 8:30pm
Sunday: 2:00pm and 8:30pm
Ticket price:
From MYR 200 (Excludes online processing fee)
Website: Matilda-KL.com