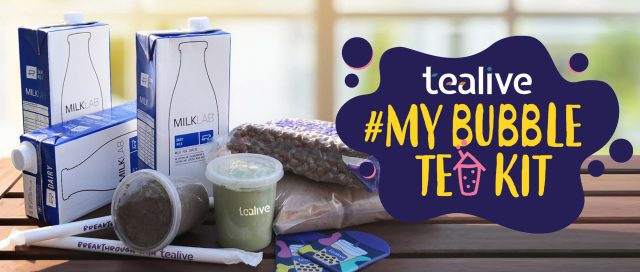 With most restaurants shut or opened only for takeaway, restaurant operators have to think of new ways to reach consumers. Tealive, Malaysia's largest bubble milk tea chain, has announced on 25 March 2020 that it has unveiled its first bubble tea kit for consumers to make their favourite brews right at the comforts of their own home.
What's inside the bubble tea kit?
Recipes:

Bang Bang Brown Sugar Fresh Milk
Bang Bang Brown Sugar Matcha Latte
Bang Bang Brown Sugar Hojicha Latte
Bang Bang Brown Sugar BOH/ Lipton black tea (optional)
Bang Bang Brown Sugar Coffee Espresso (optional)

1kg Pearls
500g Brown Sugar
75g imported Nishio Matcha
75g imported Hojicha
20pcs Wide Paper Straws
3 packs of Milklab Milk
Each bubble tea kit can make 20-25 servings. The price of the bubble milk tea kit is RM 150.
Instruction videos are available on Tealive's YouTube page.
There is an add-on option for milk, pearls, brown sugar, hojicha and matcha. The add-on options gives you a sense of the price of milk tea ingredients with pearls at RM 20/KG, hojicha at RM 20/75G and Milklab milk at RM 10/L.
Click here to purchase on Lazada.