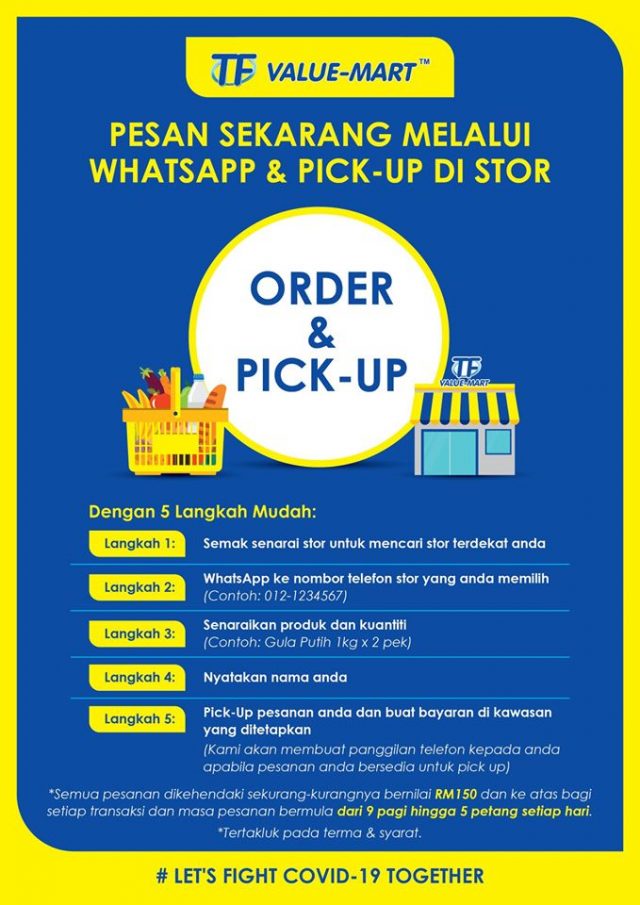 Without an e-commerce presence but still want to offer convenience to shoppers, hypermarket chain TF Value-Mart in Malaysia solves this problem by launching a new order and pick-up service during the current COVID-19 outbreak. The order and pick-up service is available at all 33 TF Value-Mart hypermarkets across 6 states in the country.
Shoppers are required to Whatsapp their shopping list including the stated quantity to the telephone number of the outlet they wish to pick up the goods. The operating hours are from 9am to 5pm. The minimum order is RM 150.
As TF Value-Mart operates in fringe areas, the minimum order of RM 150 can be too much to bear for consumers. Quite a number of the shoppers felt the minimum order should be reduced to RM 50. Moreover, most consumers have already stocked up their pantry. At the moment, most shoppers only want to replenish some of their perishables like dairy and bread with the total amount not likely to reach RM 150. A reduction of the minimum order to reflect the current consumer need is something TF Value-Mart can consider doing.