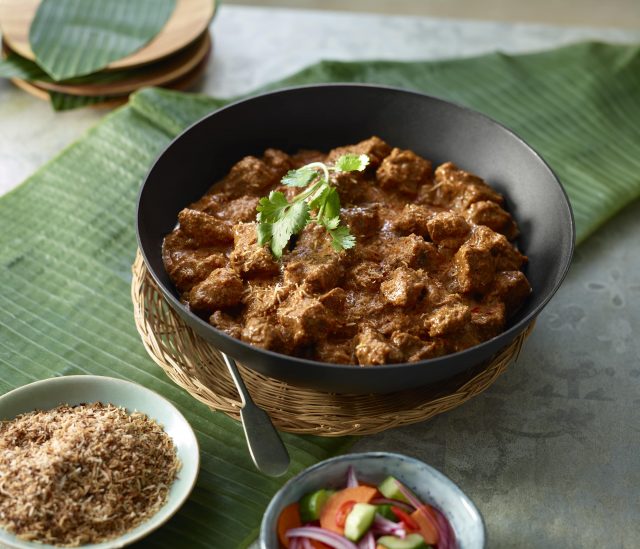 Shah Alam, April 21, 2020 : It will be Syawal 1 soon, and rendang will be the leading dish on every festive table be it with rice, ketupat, lemang, or even with bread! Rendang is a rich, highly spiced, slow-cooked coconut milk and meat dish with either thick gravy, or reduced to dry. For many of us, it is the taste of home.
The Many Tastes and Textures of Rendang
Each state in Malaysia has its specialty rendang from Perak's Rendang Tok, Kelantan's Kerutuk, Pahang's Opor, to the deliciousness that is Rendang Ayam Johor. Every family has their secret rendang recipe.
Rendang For The Beginner
How can you tackle the intricacies of rendang if you are a beginner but still need to impress family and friends?
There are four components to a great rendang : spices, paste, meat and the creamy coconut milk base.
To help you recreate the taste of home, and to start your own rendang tradition, Ayam Brand™ has developed a rendang recipe for the beginner that can be added to as your rendang-making magic increases. Make this recipe your own by playing with the spices, the paste mixture, your preferred meat (beef, chicken, duck, mutton) and always use the best coconut milk.
Naturally, we used Ayam Brand's Coconut Milk for its fuss-free authenticity and creaminess. It comes in three variants of Coconut Milk, Coconut Milk Trim (45% reduced in fat) and Coconut Milk Super Light (75% less fat than Ayam Brand Coconut Milk). You can find more Ramadan and Raya recipes from Ayam Brand™ at http://www.ayambrand.com.my/raya2020 .
Rendang Daging
Cooking time: 2 hours
Serving: 8
Ingredients
Spices
3 cloves
3 star anise
3 cardamom pods
2 tamarind paste
5 kaffir lime leaves, very finely sliced
8 tablespoons kerisik (dry fried coconut flakes)
1 stick cinnamon
1 tablespoon palm sugar to taste
salt to taste
Paste (blend well)
2.5cm galangal, sliced
3 lemongrass stalks, white parts only, sliced
7 cloves garlic, sliced
6 shallots, sliced
2.5cm ginger, sliced
12 dried chilies, seeded and sliced
Meat
1kg beef, diced into cubes
Coconut Milk
1 litre Ayam Brand Coconut Milk of your choice
Oil for frying
1 cup water
Blend the paste ingredients
In a large wok or pot, heat some oil. Fry the spice paste, cinnamon, cloves, star anise and the cardamoms until fragrant.
Add the beef, coating well with the paste and spice mixture until browned to seal in juices.
Pour in the coconut milk and stir gently allowing it to come almost to a boil.
Reduce to medium heat. Add in the tamarind juice and water, stirring well so the meat doesn't stick to the pan.
When the meat is halfway cooked, add in the kaffir lime leaves and palm sugar.
Pour in the kerisik, and season with salt. Stir well until meat is fully coated and covered with gravy.
Reduce heat to low. Cover with lid. Simmer for about an hour until the meat is tender or gravy has reduced to the desired consistency/dried up.
Serve immediately or let it cool before storing it.
What's Your Rendang Secret
Be in the running for exciting prizes. Make rendang using any Ayam Brand product. Post to your Instagram or Facebook account, tag @ayambrandmy on Instagram or @ayambrandmalaysia on Facebook while using the hashtag #beRAYAmbrand and let them know 'What's Your Rendang Secret'. Contest begins April 5th and ends on June 14th with 16 weekly prizes and two grand prizes to be won!
Find all these recipes and more at http://www.ayambrand.com.my/raya2020